Meet Máire "Mollie" Gill, War of Independence revolutionary, Cuala Press cultural activist and All Ireland winning camogie captain
It was a wet July day when the first-ever All-Ireland Senior Camogie Championship final was played in Ireland. The men's hurling match had been interrupted earlier by a "violent downpour," but a bit of rain couldn't stop the women from making history under the same conditions. Dublin defeated Galway 3–2 to 0–2 taking home the O'Duffy Cup for the very first time - and on Galway's turf, no less.
Ten counties had entered the open draw for the new championship in 1932, which didn't in fact take place until July 30th 1933 thanks to the Taeilteann Games delaying the series. Sean O'Duffy donated the silver trophy which became known as the O'Duffy Cup.
It was Máire "Mollie" Gill who captained the Dublin team to that historic win. One of seven siblings, she was born in Murphystown, Co. Dublin, on March 24th 1891, and was 42 years of age by the time she saw the Camogie championship become a reality. The 1933 final would be played only a few months later in December 1933, when Gill once again led the Dubs to success and a two-in-a-row.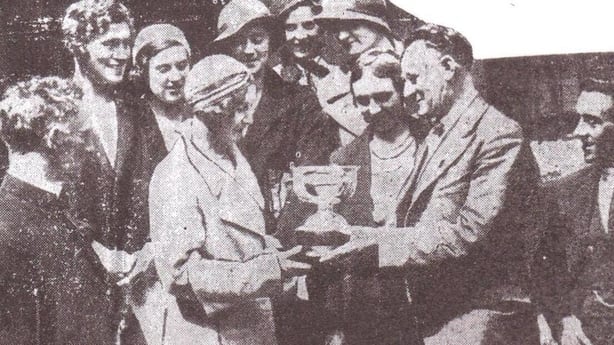 A decade earlier, in 1923, Gill had been elected president of Cualacht Luithchleas na mBan Gaedheal (later An Cumann Camógaíochta) and served for 18 years until 1941. She remains the longest-serving president of the Camogie Association.
But If we turn back the clock, Gill had already lived a lifetime by the time she won the championship. While her contribution might not be as well known as that of other women during this revolutionary period, Mollie was a political activist who had participated in the War of Independence and received a medal.
When she was 11, her older sister Jane went to work for Dún Emer Industries, the arts and crafts cooperative established by Evelyn Gleeson and Elizabeth Yeats and Susan "Lily" Yeats, the sisters of WB Yeats. It employed only women and the then 17-year-old Mollie joined in 1908 (when her sister left to marry) as a trainee printer under Elizabeth's tutelage at what would later become the Cuala Press.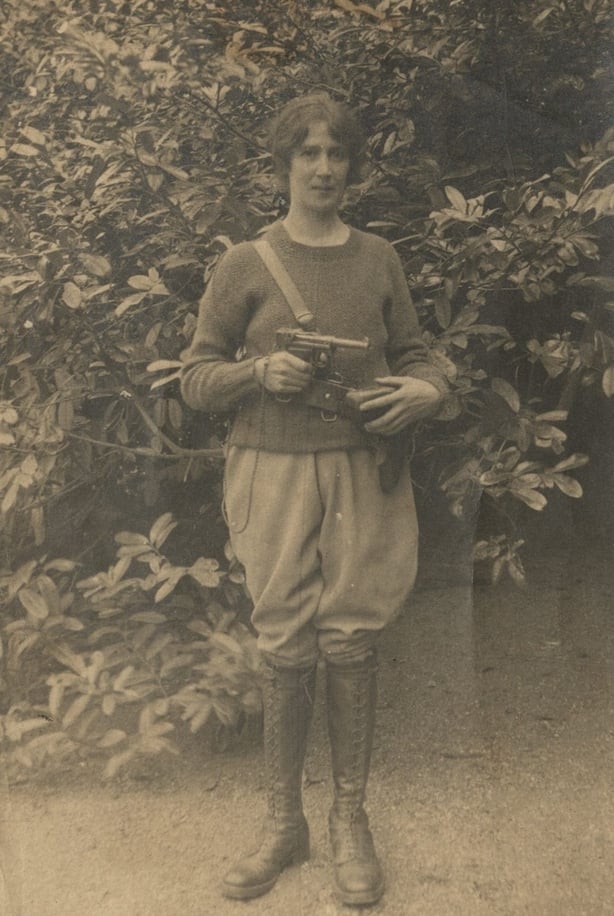 Gill "was very central to the cultural revival," says Dr Mary McAuliffe, historian, lecturer, and Director of Gender Studies at UCD. "Like many of these young women, she was politicised through cultural nationalism, into suffrage activism, feminism, and then militant nationalism."
It was at Cuala Press that Gill found herself at the centre of Ireland's Cultural Revival, meeting WB Yeats and Maud Gonne, who had formed Inghinidhe na hÉireann in 1900. Gill joined that organisation and the young apprentice would later also become one of the first members of Cumann na mBan in 1914. In 1915, she marched with the Dublin board of the Camogie association in O'Donovan Rossa's funeral procession and she was on the executive committee of the Irish Republican Prisoners' Dependents Fund, which distributed funds to prisoners' families.
"It's in many ways quite a normal way in which women were politicised," says McAuliffe. "But in other ways, here's a young working class woman who worked as a typesetter and printer, who was able to support herself, and yet at the same time had these firm ideological stances that took her into jail."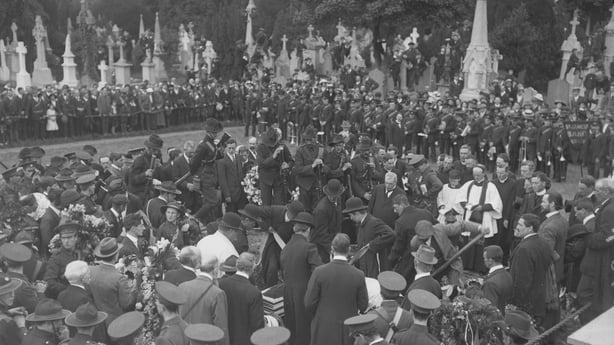 "She was a powerhouse… She was the only member of the family in the movement," says Dr Sinead McCoole, historian and author of Mollie Gill: from Cuala girl to revolutionary woman. Being a devoted nationalist, Gill took the anti-treaty side in 1921. The Civil War followed and she was arrested at Cuala in May 1923 for possession of printed "propaganda material", namely a copy of The Fenian.
McCoole describes how Elizabeth Yeats wrote to a friend after Gill and her colleague Esther "Essie" Ryan were taken away in the raid, saying: "We had another upset, my two printing girls were arrested… the two silly girls belong to Cumann na mBan, the women's Republican Society".
Information in the Yeats sisters' letters reveals Gill and Ryan's involvement was "trivialised," McCoole says. The sisters had known that the two "girls" were involved in the IRA and had asked them to give it up. Lily Yeats later writes in a letter that the pair returned "none the worse for their experience" and "having had a very good time in prison". The Yeats' sisters never asked McGill and Ryan about the experience afterwards and they never volunteered information themselves, adds McCoole.
We need your consent to load this rte-player contentWe use rte-player to manage extra content that can set cookies on your device and collect data about your activity. Please review their details and accept them to load the content.Manage Preferences
From RTÉ Radio 1's Arena, sisters of WB Yeats, Elizabeth and Lily were enterprising & artistic women who ran the Cuala Press for over thirty years
In summer 1923, Gill found herself in "damp, dark, cold" Kilmainham Gaol, imprisoned for her ideological stance. Being there would have been "an extraordinarily traumatic experience," says McAuliffe. Kilmainham wasn't well maintained at this stage and had been closed for a very long time. The women weren't treated well and many would have gone on hunger strikes. "She is part of that resistance to the new Irish Free State."
Archivist at Kilmainham Gaol Brian Crowley explains how a letter from Gill's time in prison that has survived describes a visit from someone unidentified, shouting up to her from the street, something which Crowley said was common at the time. She writes in the letter: "A Chara, I was pleased to see you through barred windows last Sunday… It was most kind of you to come up… "
In the same letter, Gill mentions playing rounders in Kilmainham. She thanks her friend for sending her in a parcel, which seems to have contained a ball, and tells the recipient: 'We played a game of "Rounders" with it & of course the first "bang" I got, over it went into the field beside the Prison'."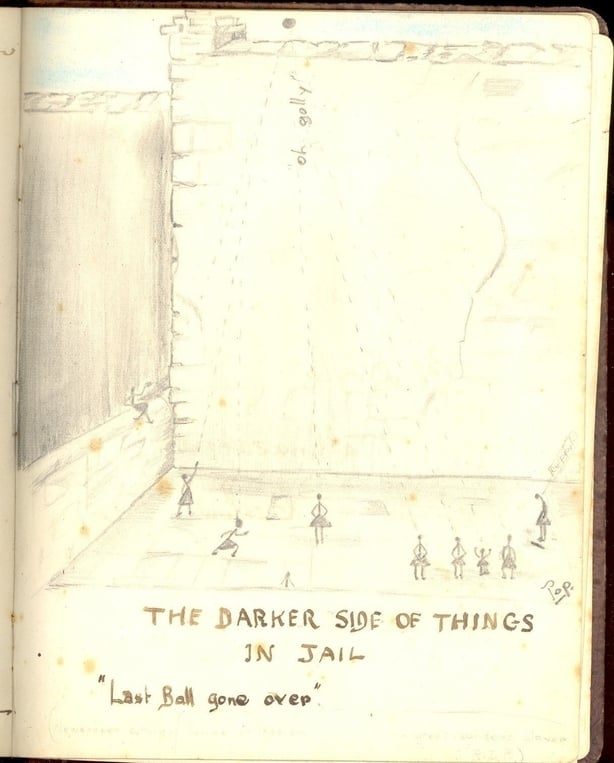 Later, she writes: 'We play Rounders, Skip and handball; we sent out for the Sticks but they have not appeared yet. They may have been held up on the way! ... one never knows now-a-days what may happen."
While Gill and the other women wouldn't have been able to play camogie, playing rounders in the "invincible yard" would have helped to keep them fit. Sheila Humphreys, a niece of "The O'Rahilly" who was imprisoned at the same time as Mollie, used to tell her grandchildren the story of how the women used the leg of a chair as a bat to play rounders. After Humphreys died, the "rounders bat" was loaned to the Kilmainham museum.
Gill and Ryan spent a number of months in Kilmainham and returned to their jobs later in the year, around September or October 1923, though the war had ended during the summer. By the 1930s, Gill was no longer an assistant but became the principal "Pressman" at Cuala, McCoole says. She would continue to work at the press for the rest of her life until 1969. She died in 1977, aged 86.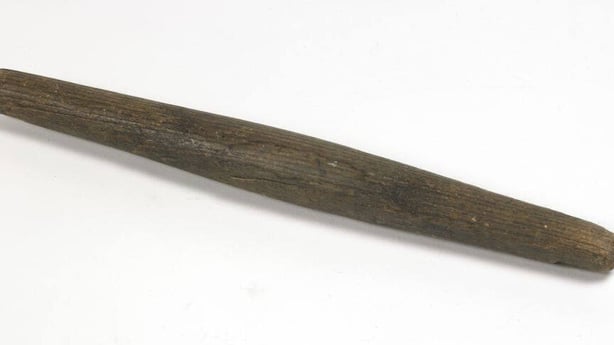 Despite being entitled, Gill never applied for a military pension, saying that "she did what she did for Ireland," McCoole says. "Part of the reason that she didn't apply for a pension, was that she had paid employment continually through her life and so many of the other women didn't have that. They had long periods without employment and long periods of ill health from their imprisonment. Those things are important to remember in the context."
"She worked right into old age. I suppose, in many ways she had what we would call a modern "balanced life". She had the sports, she had the crafts, working and fulfilment and creativity. She stayed true to her principles while she was in prison and she was on the losing side."
Gill is "one of the luckier ones," says McAuliffe, because she does not have to emigrate or face poverty when she exits prison. Cumann na mBan archives show that there's a lot of concern about the poverty levels among members of the organisation, many of whom had left their jobs or had been fired because of their politics.
We need your consent to load this rte-player contentWe use rte-player to manage extra content that can set cookies on your device and collect data about your activity. Please review their details and accept them to load the content.Manage Preferences
From RTÉ Radio 1's Morning Ireland, 100 years since the foundation of Cumann na mBan
It wouldn't have been unusual for some not to marry, particularly those who could support themselves financially and those for whom "their activism and their work is much more important than marriage and motherhood and domesticity," McAuliffe says. Gill herself never married.
"A lot of what we knew about Cumann na mBan was the leadership cohort, many of whom would be middle class women. But now with the military pension application files and other archives that have been digitised, and are now much more accessible, we're getting to see the involvement of working class women in politics."
According to a Connacht Tribune report on the day, that very first Championship final was "good throughout", but "Galway were unable to deal effectively with the Dublin backs, who were notably the best that had ever played in a camogie final," relays Mary Moran, author of A Game of Our Own: Camogie's Story. Almost a century on, Dublin and Cork are the most-winning counties, with 28 All-Ireland wins for Cork and 26 wins for Dublin. 1934 was the first year a Camogie All-Ireland final was played at Croke Park and it has been played there every year since 1951.
Gill "always wore a soft felt hat on the field" and "possessed a neat style of play" which "proved very effective."
The style of play during this period and for many years after that was centred more on ground-play than point scoring, explains Moran, a former player and All-Ireland winning coach who served as president of the Camogie Association from 1979 to 1982.
The uniform was a "gym frock" — "the hem went up as the years went by!" — covering the knee and worn with long black stockings. This didn't change until 1972. "I would have played in the gym frock. On a fine summer day you'd arrive maybe in a summer frock and you'd put on, effectively, more clothes to play a match," Moran says.
We need your consent to load this rte-player contentWe use rte-player to manage extra content that can set cookies on your device and collect data about your activity. Please review their details and accept them to load the content.Manage Preferences
From RTÉ Archives, a camogie match in Mayo played in 1956 and filmed by PJ Gilmore
By all accounts, Gill was a bit of a legendary athlete with an "impressive" camogie career that began as a young member of Crokes Camogie club and saw her captain the winning Leinster Camogie team in the Tailteann Games in 1928 and 1932, before the two historic inaugural Championship wins of 1933. She "always wore a soft felt hat on the field" and "possessed a neat style of play" which "proved very effective."
---
The views expressed here are those of the author and do not represent or reflect the views of RTÉ
---