Analysis: we now know that humans feeding wild deer in places like the Phoenix Park has physiological impacts on the animals
By Laura Griffin, Ellen O Hagan and Deirdre McLaughlin, UCD
The feeding of wildlife by well-intentioned people has become an increasingly popular activity in recent years. Social media has helped to spur this on, with videos and photos of people feeding a variety of species across terrestrial, aquatic, and marine habitats regularly going viral. Many people feel that this is a positive way in which they can get close, meaningful interactions with nature, while also giving wild animals a bit of a treat.
However, we previously had little knowledge of the impact that these seemingly benign feeding interactions are having on targeted wildlife populations. We know that they can put the humans involved in danger, with the animals involved often taking the fall when someone gets injured or they become too habituated to people. This in itself should be enough to discourage anyone from feeding wildlife, but unfortunately this is often not the case.
On #MorningIreland @lauraelgriffin a researcher @UCD_Wildlife says that deer who are fed by visitors to the Phoenix Park could have issues giving birth as a result. Our reporter @RayanaZapryanov was in the Phoenix Park this morning asking if people have seen others feed the deer pic.twitter.com/SekMQ2TMI4

— Morning Ireland (@morningireland) August 5, 2022
In terms of how feeding could be affecting wildlife, there have been concerns about disease transfer, changes in animals' natural behaviours, increased stress, and impacts on their health. The general rule held by ecologists is that any impacts caused by humans, or 'artificial selection' within a wild population, is unnatural and must be avoided. But how do we find out if this is happening?
The story in the Phoenix Park
Phoenix Park is home to approximately 600 wild fallow deer. They are tagged with unique ear-tags, making it possible to track them over the course of their lives. Over the last few years, many visitors to the Park have begun feeding these wild deer, despite it being prohibited by park officials.
Concerns about what this could mean for the deer were only heightened when our research uncovered that it is only a subset of the population that will approach to accept this food. This automatically makes you wonder whether some individuals are, therefore, at a disadvantage to others. Using our knowledge of which deer accept food, we were able to perform a series of comparative studies, to see what impacts feeding are having on these wild deer.
We need your consent to load this rte-player contentWe use rte-player to manage extra content that can set cookies on your device and collect data about your activity. Please review their details and accept them to load the content.Manage Preferences
From RTÉ Radio 1's News at One, Laura Griffin talks about her study investigating the interactions between visitors and deer at Phoenix Park
Impacts on antlers
Only the males of this species have antlers, with antler length being an important feature during their mating season when they use them for sexual competition. In other words, a deer's antler length has been shown to be positively correlated with mating success.
Research on Phoenix Park's deer has found that male individuals who are being fed have smaller antlers in comparison to those who avoid being fed. It is likely that malnutrition from this improper diet provided by humans is resulting in decreased body condition and, therefore, smaller antler sizes. These smaller antlers have negative implications for these individuals, as smaller antlers mean that these deer will be less competitive during their mating season.
Feeding the deer also causes competition between males for this food throughout the year. This extra competition means that they are expending more energy which would be used to maintain their body condition, therefore also reducing antler size.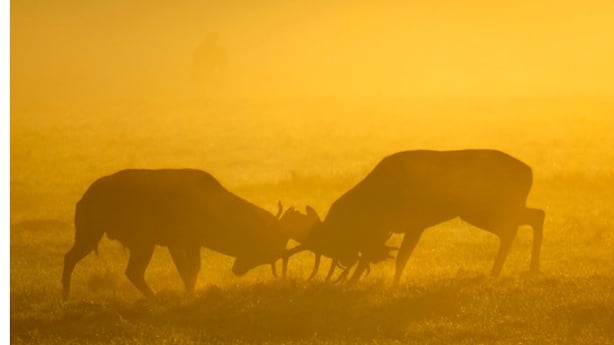 Impacts on digestive systems
Some of the physiological impacts of feeding are less obvious and require a closer look at the deer's gastrointestinal tract. Deer are ruminants and their digestive system is uniquely designed to process large amounts of fibrous plant material. The rumen is a part of the ruminant digestive system that uses beneficial microbes to digest tough plant material. Useful acids are released in the process and are absorbed by small finger-like papillae that cover the inside of the rumen.
Deer are built to thrive on a natural grass-rich diet, so what happens to the deer rumen when people add bread, carrots, and crisps into the mix? Feeding the deer changes the structure of their rumen; we've found that deer that take food have more papillae in their rumen compared to the deer who graze naturally. This increased number of papillae warns us that the rumen is potentially strained.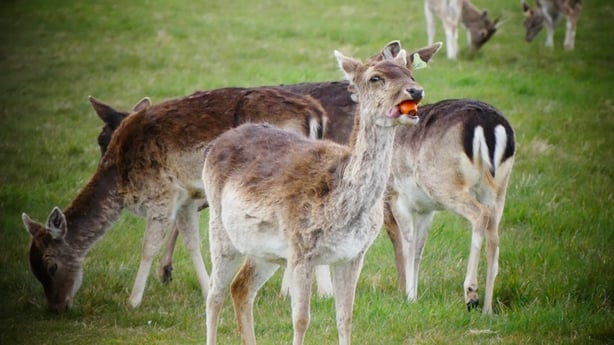 Digestion of unnatural foods can lead to a build-up of organic acids and the rumen can become too acidic to function under these conditions so the deer must increase their papillae to absorb excess acids. Feeding the deer, therefore, encourages this unnatural rumen state as the deer must change their rumen structure to cope with this unnecessary stress.
It's easy to think that if an animal approaches to take food from you, it must be enjoying or benefiting from the interaction. However, this is not the case. A deer's brain has evolved to associate sweetness with nutrition, as the fresh, nutritious shoots in Spring are sweet. But evolution didn't account for the volumes of fruits, carrots, bread, and sweets being brought into the Park.
Clearly these interactions are having an adverse effect on the resident deer population and we should spread the word to discourage people from feeding them. If we love wildlife enough to want to get this close to it, surely that means we love it enough to keep this a long-distance relationship for the good of their health and welfare?
Laura Griffin is a PhD student in the Laboratory of Wildlife Ecology and Behaviour at UCD. She is currently working on a project exploring the impacts of unregulated, visitor feeding interactions on wild fallow deer in Phoenix Park, Dublin, funded by the OPW. Ellen O Hagan is a research master's student in the Laboratory of Wildlife Ecology and Behaviour at UCD whose work is focused on the effects of artificial feeding on the body condition of male fallow deer. Deirdre McLaughlin completed her BSc Hons degree in Zoology at UCD. Her final year project in the Laboratory of Wildlife Ecology and Behaviour investigated the physiological impacts of the human-deer feeding interaction on the gastrointestinal tract of the wild deer at Phoenix Park, Dublin.
---
The views expressed here are those of the author and do not represent or reflect the views of RTÉ
---