Analysis: photography brought images of the hungry in Ireland in 1898 to well-fed politicians, humanitarians and the wider public
The Irish proverb ní thuigeann an sách an seang captures the timeless truth that well-fed people do not understand their hungry counterparts. This was especially so in Ireland in 1898 when a serious food shortage – the third in a decade – was unfolding. Dwindling food supplies aroused spine-chilling recollections of the Great Famine in people older than their mid-fifties. Misunderstandings abounded and political debate was sharply divided. Unionists accepted that there was hunger in isolated locations, whereas nationalists spoke of widespread famine.
Two separate but related developments proved decisive in 1898. The first was the sustained interest of the Manchester Guardian in reporting the crisis. The second was the transformative power of photography what became known as the photography of the 'Starving West'.
In 1897, the Irish potato harvest produced the lowest yield in more than 15 years. Partial failure of the crop, still the staple food of a large proportion of the poor population, brought near-famine conditions to many remote settings. Donegal, Mayo, Galway, Clare, Kerry and Cork suffered most. In Kerry in early 1898, labour leader and future 1916 rebel James Connolly encountered what he deemed 'actual famine'. He informed French and American newspaper readers how the carcass of a diseased cow was served as food.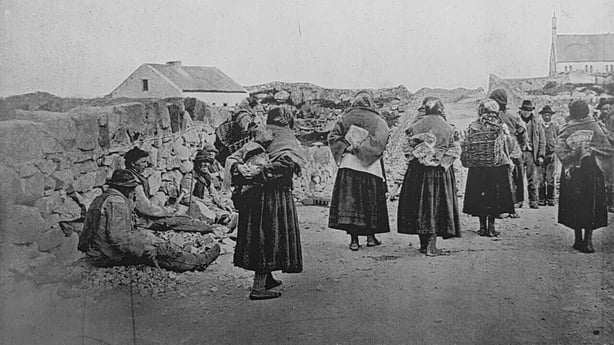 Maud Gonne filed similar reports from Mayo for the nationalist Freeman's Journal. She found mothers who had nothing to give their dying children but 'Indian corn, stirabout [porridge] and no milk'. Hunger forced people into government-run relief works, and Gonne was outraged that women of all ages had to carry stones so that they could buy food.
Unionist newspapers in Ireland largely ignored the food shortage, but their nationalist counterparts provided extensive and occasionally exaggerated coverage. The Weekly Freeman's Journal published three line drawings of 'The Starving West', telling readers that they were based on photographs. One featured the interior of a cabin in Carraroe in Connemara.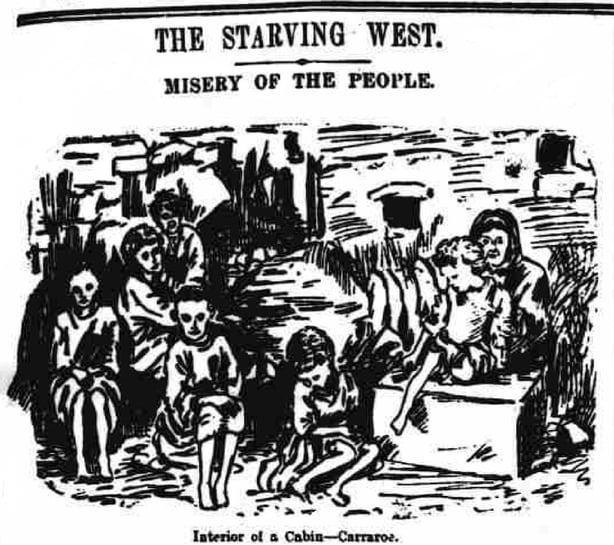 However, the most balanced accounts were published by the Manchester Guardian. It sent its long-standing agricultural correspondent Professor James Long to cover the Irish food crisis. He spent several weeks in Donegal, Galway, Mayo and Clare and was horrified by what he saw.
Long documented the failure of the potato crop, its awful consequences and proposed a comprehensive raft of remedial actions. He was instrumental in the establishment of the Manchester Relief Fund to alleviate hunger in Ireland. The Manchester Guardian published dozens of intercessional letters from Catholic priests and some bishops based in the west of Ireland seeking charity. The Manchester fund raised more than £20,000 (equivalent to almost two million euro today).
By contrast, a delayed and much criticised charitable response in Ireland by Daniel Tallon, lord mayor of Dublin, collected little more than half that amount. Tallon's initiative made novel use of photography. One of his fundraising pamphlets included the Carraroe cabin photograph on which the 'The Starving West' line drawing was based.
Food supply crises were relatively common, but the crisis of 1898 was transformed by photography
Of particular significance was the intervention of the Irish Field. It sent a special correspondent accompanied by a photographer to Connemara. In an article titled 'In the Starving West' in March 1898, the newspaper reported the prevailing hunger and paired it with a series of well-received photographs. It highlighted reliance on Indian meal (maize) as the only food source, children fearing hungry Sundays when school meals were unavailable, and people sleeping on mud floors in deplorable living conditions.
It also described a family of 11, without potatoes since Christmas, living in a hut not big enough for an average-sized horse. The family had no income beyond that provided by the government's relieving officer and hardly enough to keep a family of eleven alive. Another photograph of food supplied to a family of eight, who ate 'dinner on Indian meal' — from a pot on a floor — featured in a fundraising pamphlet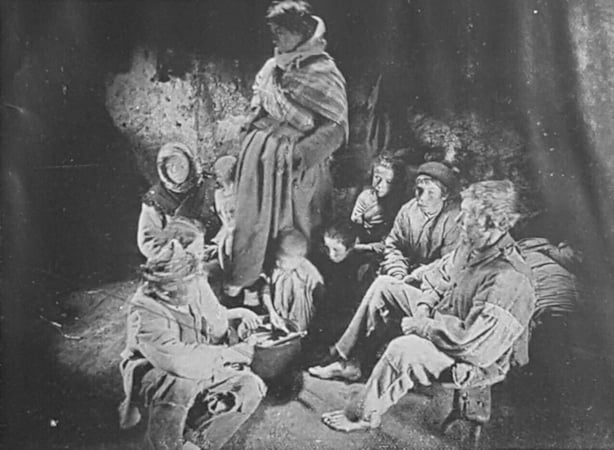 Several newspapers carried detailed reports of the Irish Field article and deemed the photographs 'capital' and 'first class'. Amid such praise, the Irish Field contributed photographs in April 1898 to a booklet, predictably titled 'In the Starving West', which accompanied other fundraising pamphlets issued by the lord mayor.
Apart from press photography, photographic images raised awareness of distress through the medium of lantern slide projection (a PowerPoint-like technology from the 17th century). Although lantern slides were used extensively in Ireland for entertainment, educational, and political purposes, they had not been used to relieve hunger until the 1898 crisis.
Apart from press photography, photographic images raised awareness of distress through the medium of lantern slide projection
Between April and June 1898, Samuel Ritchie Greer used lantern slides at his fundraising meetings for the 'starving and ill-clad people'. He showed slides of 'distressed people and districts' in Dublin, Bray and Dun Laoghaire. The lord mayor hosted a widely advertised fundraising meeting in the Mansion House in early May, at which more than 60 'limelight photographs of distressed people and districts' were displayed by a 'powerful lantern'. The mayor warned that if the government did not remedy the situation, he would assemble the citizens and show more photographs to them. For added political effect, he threatened to have the photographs of hunger and distress shown in America.
Photography brought images of the hungry in Ireland to well-fed politicians, humanitarians and the wider public. Charitable endeavours based in Dublin and Manchester made significant contributions to the preservation of life in 1898. Food supply crises were relatively common, but the crisis of that year was transformed by photography. The emotive power and reach of the photograph turned a regional issue into a pressing national concern and proved decisive in mobilising necessary relief measures.
---
The views expressed here are those of the author and do not represent or reflect the views of RTÉ
---