Analysis: ancient trainees lifted weights for war, religion or aesthetics, but modern enthusiasts do so for sport, health and appearance
By Conor Heffernan, University of Texas
It is one of the simplest activities a person can do: find an object of sufficient weight, somehow pick it up and repeat this process for a desired length of time. Easy to describe, but often difficult in practice.
Lifting heavy weights has been a central part of human cultures for centuries. Over the course of several millennia, weightlifting evolved from a practice largely undertaken by soldiers or spiritual seekers to an activity that everyone, young and old, engages in. At the heart of this transformation is the story of opening cultures and breaking down barriers.
Weightlifting in the ancient world
The most remarkable thing about weightlifting is its longevity. Scholars working on the Ancient World have found evidence of weightlifting activities in Ancient Athens, Sparta, China, India and Egypt among other regions. Admittedly how people lifted weights in Athens was vastly different than how they lifted weights in Egypt but, general themes existed.
We need your consent to load this YouTube contentWe use YouTube to manage extra content that can set cookies on your device and collect data about your activity. Please review their details and accept them to load the content.Manage Preferences
From Barbend, Conor Heffernan on strength history's biggest moments
Weightlifting was an integral part of military cultures in the Ancient World. Ancient Greek soldiers used halteres or stone dumbbells to train. Those in Sparta used callisthenics and heavy rocks and those in Ancient Egypt prefeed heavy sandbags, while soldiers in Ancient China used rocks. Becoming a soldier meant becoming a weightlifter.
There was also a spiritual side to weightlifting. In India and Persia, exercisers swung heavy clubs to train their body but also to reach higher states of consciousness. Likewise in Ancient China, men would lift heavy cauldrons (dings) as part of funeral rites.
Note the word 'men'. Although there is evidence of women's sport in the Ancient World, it is very difficult to find anything on women's weightlifting. That would come much later. The final strand of weight lifting, found in the gymnasium, was a male-only enterprise. Roughly translated as naked exercise in Ancient Greek, gymnasiums were spaces away from military camps where men could train for sport, for health, or for appearance. Such spaces largely coincide with the modern uses of weightlifting.
Weight training's Renaissance
While Indian and Persian physical cultures maintained their popularity across multiple centuries, those in western Europe changed drastically depending on the century. With the fall of western Rome in the fifth-century, the gymnasium cultures outlined above largely disappeared.
Murray Phillips and Alexander Roper have argued that the Middle Ages in Europe were defined by an aversion to training the body. Under Catholic doctrine, the body was treated as a vehicle for sin - something to be transcended - rather than something to be exercised. While sport and physical activity still occurred, its widespread popularity waned.
From Bright Club, Conor Heffernan on what the history of physical culture and exercise in Ireland tells us about our society
Matters changed during the Renaissance period of the 15th and 16th centuries. Defined by a rediscovery of Greco-Roman culture, the Renaissance was significant in the development of weightlifting as physicians and educators began to implement classical exercise systems into their own writings.
In 1573, Girolamo Mercuriale published De Arte Gymnastica, a medical book inspired by the dumbbell and calisthenic routines of Ancient Greece. Viewed by many historians as the rebirth of the European interest in gym cultures, De Arte was followed by dozens of books detailing the importance of exercising and lifting weights. This extended into the following two centuries when educators began to incorporate forms of weightlifting and physical activity into their curricula. What was once the preserve of adults - be they soldiers regular exercisers - opened up to children.
Barbells, dumbbells and kettlebells
By the early 19th century, physical education in schools and the need to exercise was slowly becoming an accepted idea. By the late 19th and early 20th century, it had become an expectation. In 1889, a Prussian strongman named Eugen Sandow travelled to England to face a fellow performer in competition. Defeating his rival, 'Sampson', Sandow initiated a global craze for weightlifting. Arguably the world's first modern bodybuilder, Sandow counted kings and queens as admirers. He travelled the world, sold training equipment and inspired thousands to take to the gymnasium.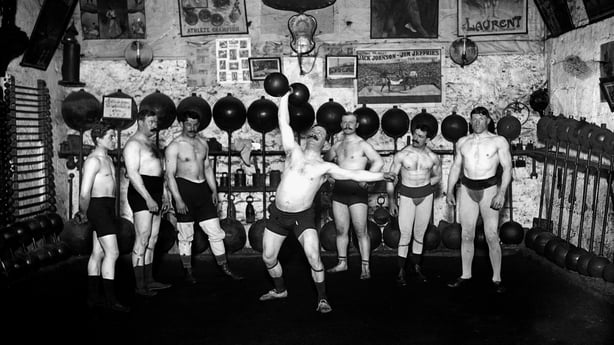 In the gymnasium, male trainees were introduced to barbells, dumbbells and kettlebells, now sold by fitness manufacturers. As more lifted weights, sporting federations began to arise. In 1891, London hosted the world's first weightlifting competition and, five years later, weightlifting made an appearance at the Athens Olympic Games.
By the early 1920s, weightlifting was an established Olympic sport but, despite this progress, the sport was still restricted to men. Tentative efforts to address this problem arose in the 1930s and 1940s when Ivy Russell created a women's weightlifting federation in Britain and Abbye Stockton hosted women's weightlifting contests in America.
Weightlifting was beginning to splinter into other sports. In the late 1960s, powerlifting was formed as a distinct sport. Where weightlifting focused on two lifts, powerlifting centered on three. Importantly, powerlifting was open to men and women from its origins. Powerlifting's accessibility later meant it became the weightlifting sport of both the para and special Olympics.
We need your consent to load this rte-player contentWe use rte-player to manage extra content that can set cookies on your device and collect data about your activity. Please review their details and accept them to load the content.Manage Preferences
From RTÉ Radio 1, Alex Craig and Sinead Ryan with their coach Harry Leech on competing in the first ever women's weightlifting tournament to be held in Ireland in 2013
Although women's weightlifting grew in popularity from the 1950s, it was not until 1987 that the World Weightlifting Championship hosted a women's division. Likewise, women's weightlifting did not come to the Olympics until 2000. Admittedly late, the inclusion of women into the Olympic fold helped complete a process of expansion in the history of weightlifting which dated to ancient times.
Where ancient trainers lifted weights for war, religion or aesthetics, modern trainees do so for sport, health and appearance. The exercises used may appear similar, but the motivations differ drastically.
Dr Conor Heffernan is Assistant Professor of Physical Culture and Sport Studies at the University of Texas at Austin. He's the author of The History of Physical Culture in Ireland, the first book to examine the beginnings of the Irish interest in gym cultures. He also runs the history of fitness website Physical Culture Study. He is a former Irish Research Council awardee
---
The views expressed here are those of the author and do not represent or reflect the views of RTÉ
---