Analysis: could regional franchises and budget caps overcome GAA conservatism to create a level playing pitch for all 32 counties?
This article is now available above as a Brainstorm podcast. You can subscribe to the Brainstorm podcast via Apple, Stitcher, Spotify or wherever you get your podcasts.
After a sixth consecutive All Ireland Senior Football Championship win, it is clear that Dublin's recent dominance has generated considerable controversy. Certainly, we've seen more controversy around Dublin than when the Kerry footballers (1978-81) or the Kilkenny hurlers (2006-9) had their periods of dominance.
It is worth remembering that maximising the output of Ireland's most densely-populated city was deemed of critical importance by then GAA president Sean Kelly's October 2004 appearance at a Dáil committee. "The one place where we need to change — we are trying to address this — is in urban areas. Fast growing urban areas present a big problem for everybody", he said.
"I am chairing a committee and on 22 November the Taoiseach will launch our plans for Dublin which will involve us in trying to get a greater market share for ourselves there, to get more clubs up and running and to have more people playing our games, first for enjoyment but also to raise standards. We will employ a number of coaches, three strategic personnel and three development officers in three Dublin regions."
We need your consent to load this rte-player contentWe use rte-player to manage extra content that can set cookies on your device and collect data about your activity. Please review their details and accept them to load the content.Manage Preferences
From RTÉ Radio 1's Today With Claire Byrne, discussion on Dublin GAA's dominance in Leinster with former Westmeath plater John Connellan and former Dublin lord mayor and avid GAA fan NIal Ring
A robust blanket defence of Dublin's achievements includes former Dublin players and management, and even a former GAA president citing the efforts of volunteers or the quality of work done in a gym, for example. The arguments of those in the opposing corner coalesce broadly around two areas of perceived advantage for Dublin, namely population and funding.
Given that almost every detractor is likely from a county outside of Dublin, how do those arguments stack up geographically? Using census data and GAA annual financial reports and borrowing a current GAA format, we are able to map the total Games Development funding for the six-in-a-row period (2015-20) and population density (2016).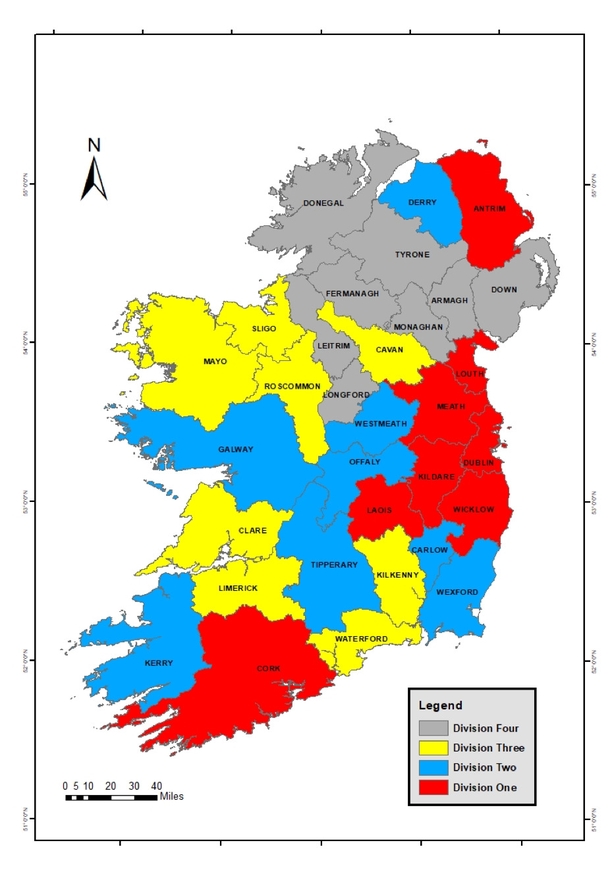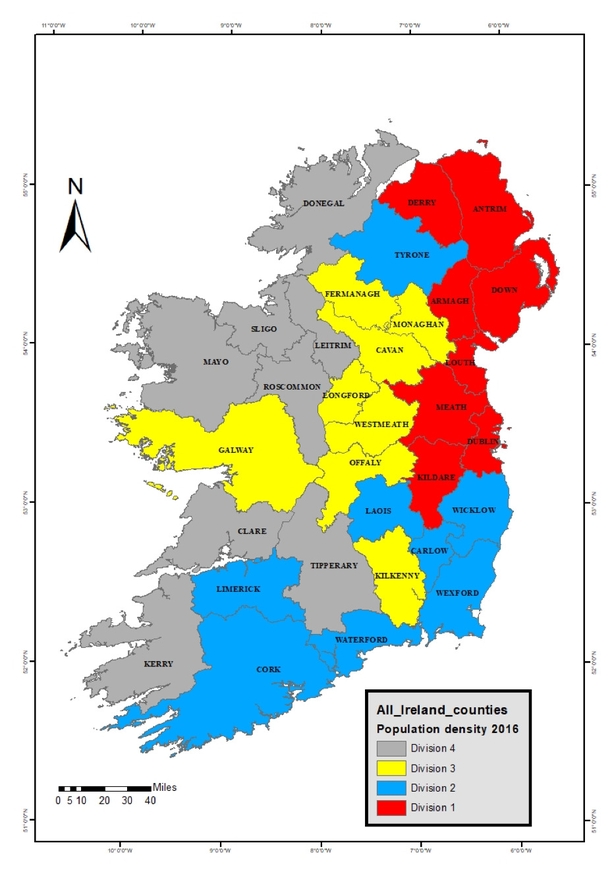 During that period, Dublin received over €5.6m more than the next highest recipient of Games Development funds (Meath). Whilst perhaps justifiable that the most populated counties received most grassroots investment, the geographical disparity alone means that Dublin had 1,441 more people per square kilometre in 2016 than Leitrim.
However, the remarks of then Director General of the GAA, Páraic Duffy, at a Dáil committee in 2017 suggested either a reluctance or inability to slow down the juggernaut that the GAA had, perhaps inadvertently, created. "We still allocate a considerable amount to Dublin....because there is a huge level of activity there. Clearly, if one were to remove that funding just like that from those clubs, they probably would not be able to afford to keep those people (full-time development officers) in place."
We need your consent to load this rte-player contentWe use rte-player to manage extra content that can set cookies on your device and collect data about your activity. Please review their details and accept them to load the content.Manage Preferences
From RTÉ's GAA podcast, Colm O'Rourke and Irish Examiner GAA correspondent John Fogarty join Mikey Stafford and Rory O'Neill to discuss the parlous state of GAA finances due to Covid-19
Radical solutions have been proposed since then, such as splitting Dublin in two, but this would mean the jettisoning of numerous GAA sacred cows if they were to become reality. This brand of selective GAA conservatism means we have yet to progress beyond the mere suggestion being raised after Dublin win the Leinster final by 21 points.
But how would these options look if we are to indulge them a bit further than previously considered? Both rugby (in Munster circa1966 to 1973) and soccer (during The Emergency) have flirted with inter-county cup competitions contrary to their established template in the past.
In keeping with the arguments of the current debate, let's borrow one broadly demographical and one broadly financial template from other sports. In the United States and India, the principal American Football (NFL) and cricket (IPL) competitions respectively feature professional franchises located overwhelmingly in the largest urban centres of those countries. If we were adopting that template for the 10 largest urban areas in Ireland by population, a 10 team football championship – complete with eccentric franchise name and title-sponsored stadiums – might look like this.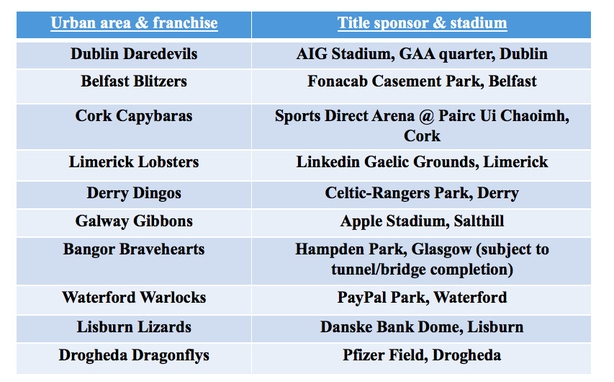 A second option might be something similar to the budget cap introduced by Formula One in 2021. Applying this to the GAA would see the previous season's worst performing county given the largest set budget for the next season, down to the previously best performing county given the smallest set budget for the next season (32). If quantifying the performance of all counties in the All-Ireland Senior Football Championship between 2015 and 2020, the geographical spread of the resulting finances would look like this: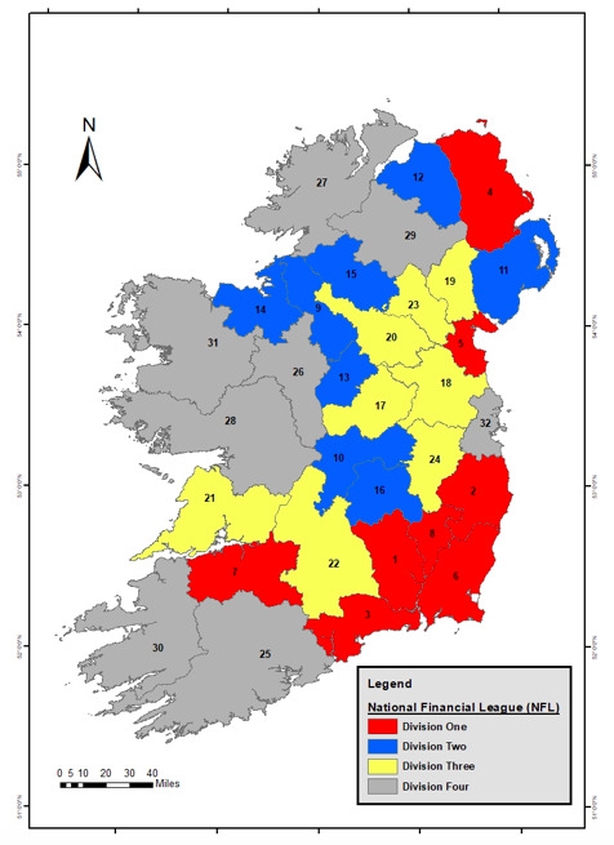 The current economic climate would suggest that any revolutionary change to the existing model is unlikely, so don't expect the BertieBowl complete with virtual half-time show this year at least. But remember that rugby union fully embracing professionalism and a Premier League breakaway from the Football League in England would have been considered unlikely at the beginning of the 1990s.
---
The views expressed here are those of the author and do not represent or reflect the views of RTÉ
---