Analysis: 70,000 young people in Ireland suffer from this disorder which affects how they communicate and connect with others
How many times over the last few months have you struggled to follow a conversation? Have you found yourself desperately focusing on someone's eyes for clues as to how they are feeling or the intention behind their words? Do you miss the loose connections that are made on a daily basis by chatting with others, so integral to the way we go about our daily business here in Ireland? A simple conversation, something that that most of us took for granted, has now become effortful and frustrating.
Findings from studies of the impact of Covid suggest that people are feeling lonely and isolated, even depressed due to the decrease in human interaction and the disruptions to communication. Not surprising really, given that we are inherently social creatures and the need to feel human connection is fundamental to our mental and physical health.
We need your consent to load this YouTube contentWe use YouTube to manage extra content that can set cookies on your device and collect data about your activity. Please review their details and accept them to load the content.Manage Preferences
From Boys Town National Research Hospital, living with Developmental Language Disorder
For most of us (hopefully) the loss of connection with others will be temporary, but what if communication has been effortful and frustrating all of your life? Approximately 70,000 children and young people have a relatively unknown condition called Developmental Language Disorder (DLD) where they struggle to connect with others. Difficulties with comprehension, expressing thoughts and ideas and reading others intentions are the norm. Poor language means that the school years can be very challenging, with increased risk of literacy difficulties and struggles with exams. Adolescents with DLD are three times more likely to suffer from depression.
Ahead of DLD International Awareness day, I believe that Covid has created a unique opportunity for us to harness positive societal change for children and young people with DLD. It has drawn our attention to the importance of communication as a means of feeling connected with others in a way that no research paper can. An awareness of what it is like not to be able to communicate is now a shared lived experience for all. This is a watershed moment for us to make changes in order to create a more inclusive society, a society where we are all invested in making communication work.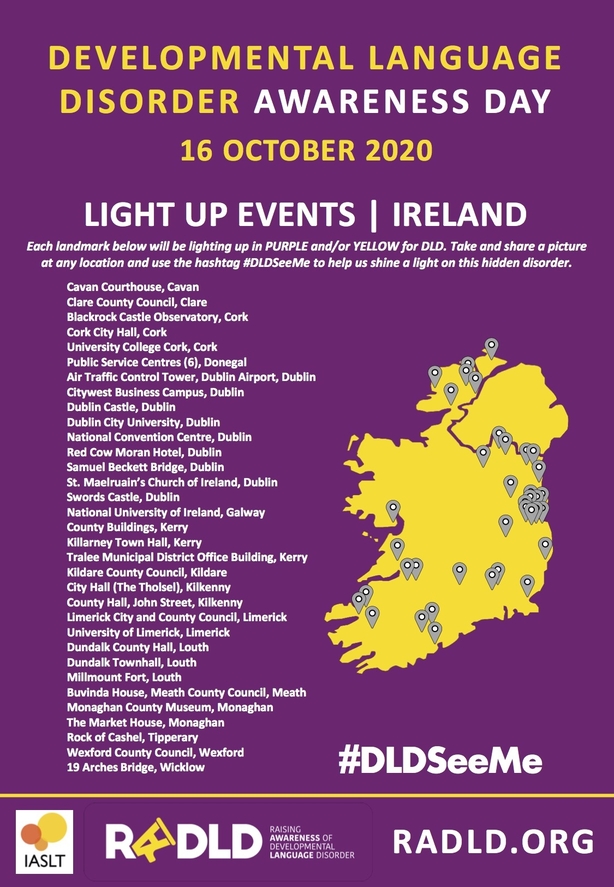 By making simple adaptations to our communication, we can reduce many of the barriers faced by children and young people with DLD.  
Simple strategies that have been found to be helpful to support communication include:
· Making sure you have a person's attention before you talk
· Facing the person directly, making sure nothing is blocking their view of you
· Giving extra time for others to respond
· Using extra gestures alongside your words
· Using your body language in a more exaggerated way than normal to get your message across
· Stopping to check the other person is understanding
· Letting the person know you will give them the time needed to get their message across
· Getting creative by carrying a pen and paper, drawing a picture or writing ideas down to support the conversation
These simple strategies such as these can make all the difference. By the way, if you are out and about on October 16th, you may spot some key landmarks (universities, government buildings, bridges, castles) across Ireland lighting up in purple and yellow for DLD International Awareness day. Take the time to enjoy the beautiful lights and to make a pledge to support communication for all. 
---
The views expressed here are those of the author and do not represent or reflect the views of RTÉ
---