Frank Murray used Gaeilge to keep diary entries secret in Japanese prisoner of war camps during the Second World War
This article is now available above as a Brainstorm podcast. You can subscribe to the Brainstorm podcast through Apple Podcasts, Stitcher, Spotify or wherever you get your podcasts .
By Colm Mulcahy, Spelman College
Future Belfast doctor Frank Murray was one of countless Irish teenagers who felt the first pangs of puppy love during a céilí in the Gaeltacht. In his case, it was at Coláiste Bhríde, Rann na Feirste in Donegal, in the summer of 1929. He had won a scholarship there after taking Irish lessons at the Sacred Heart School in Glenview Street in Belfast from renowned Gaelic League enthusiast Mairéad Nic Eoin.
The story of Frank's remarkable life is beautifully documented with period photos and artefacts on a website  recently launched by his son Carl. Frank's bride-to-be Eileen O'Kane was also from a Nationalist Catholic Belfast family, and she too had gone to Donegal to brush up her Irish. She later remembered travelling to Ranafest by narrow gauge railway and bus, and wearing a blue frock to the céilí on the first night. "Up out of the crowd came this tall, very handsome curly haired lad, and asked me, "An ndéanfaidh tú an damhsa liom?" They danced every night, and he was smitten. They were both 16 years of age.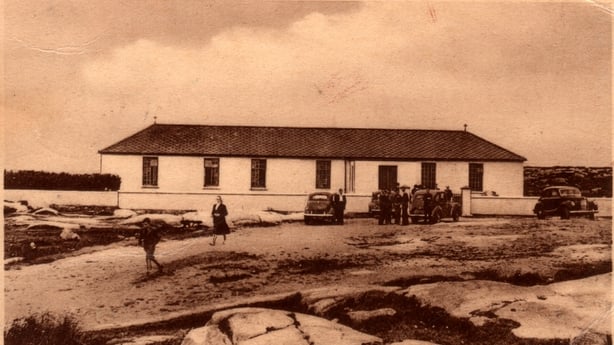 They hooked up again briefly as students at Queen's University, but she was sceptical about the viability of a long-term relationship. Despite the obstacles life subsequently put in his way, Frank persevered and eventually managed to steer his early feelings for Eileen into a lifelong partnership. After earning his medical degree in 1937, he started work in a practice in Birmingham. Two years later, alarmed by Nazi aggression, he joined the Royal Army Medical Corps, and was shipped to India in January 1940.
At the end of 1940, he bit the bullet and sent a Christmas card to Eileen who was then teaching at Loreto School, in Omagh. He caught her in a more receptive mood and, by July 1941, she had agreed to marry him. That wouldn't come to pass until 1946, but he faithfully wrote to her every day throughout the war.
Frank's early assignment to Rawalpindi was followed by several transfers, and he had the misfortune to be in Singapore when it fell to the Japanese in February 1942. This changed everything, and he was in various prisoner of war camps for the next three and half years.
How does one survive the kind of ordeal that Frank went through, not to mention provide moral and practical support for men under one's command?
As he could no longer post letters to his sweetheart, he switched to a diary format, sending her all 228 pages of those upon his release from captivity in September 1945. The diary entries were written in secrecy in case his Japanese captors ever found them and deduced that the prisoners had knowledge of the outside world. Sometimes Frank used words and phrases in Irish to conceal wartime details learnt via access to a contraband radio. 
"Dad was fond of using phrases in Irish in many of his letters to Mum", explains Carl. "Often these were just terms of endearment but towards the end of the war, from June 1944 onwards, he used Irish written in the old-fashioned Gaelic script in his diaries to hide information in case the letters were seen by the Japanese; sometimes he just wrote in English but used Gaelic script to hide specific words or phrases.
"The prisoners had access to a clandestine radio as well as stolen Japanese newspapers and so they were being kept up to date about the progress of the war with the obvious boost to morale. For example, they knew about D-Day and the death of Hitler within a day or two of these events happening."
Here are some 1945 entries: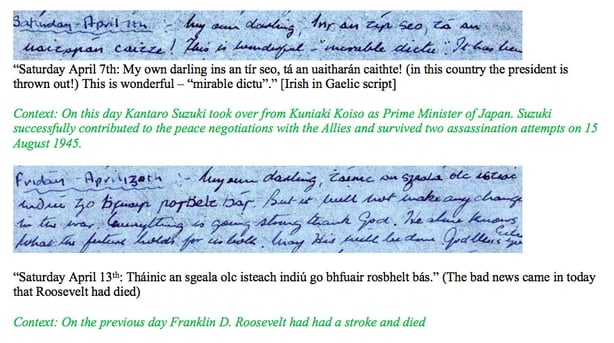 In 1944, Frank become the Officer Commanding the British POWs in the Muroran camp, Hokkaido, Japan. He also served as their Medical Officer, and was particularly effective in protecting the weaker men from unbearable work shifts. 
How does one survive the kind of ordeal that Frank went through, not to mention provide moral and practical support for hundreds of men under one's command? "Reading my father's letters and diary leaves no doubt in my mind that his love for my mother and his strong faith were key factors in his survival," says Carl. "He had something to live for."
On September 6th 1945, as freedom beckoned, Frank wrote "darling, the proudest moment of my life came at 5pm this evening when 350 men paraded and gave me an address. It is a beautiful document signed by all the men and I shall always treasure it." It included the words: During the blackest period of our lives – you were at all times and in all places a genuine friend to each and all of us. … Many of us would not be alive at this happy moment but for your care.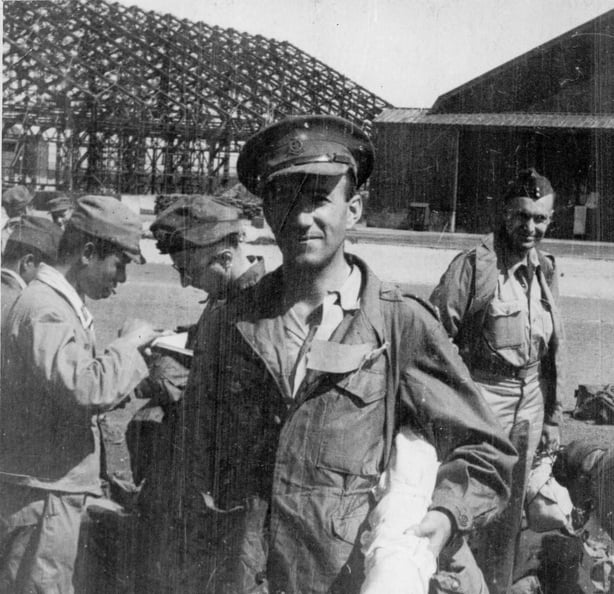 Finally liberated, Frank headed back in Belfast. He married Eileen in 1946 and was also awarded an MBE the same year. Having made it through one war against all the odds, he settled down to run a family medical practice on Oldpark Rd, and rarely mentioned his years of incarceration. He and Eileen had three daughters who had medical related careers, and two sons who taught at various levels.
In 1972, Frank's surgery was burnt down by a mob that included young men he had brought into the world, ultimately prompting early retirement and departure from Belfast to Newcastle, Co Down. Around the same time, the commanding officer of British troops doing a routine search of the family home changed his tone when Eileen showed him the testimonial to her husband from the British and American POWs whose welfare he had overseen. 
Colm Mulcahy is Professor of Mathematics at Spelman College, Atlanta, Georgia, United States. He is the curator and creator of the Annals of Irish Mathematics and Mathematicians.
---
The views expressed here are those of the author and do not represent or reflect the views of RTÉ
---