Analysis: some tips on how to keep yourself and your kids moving while maintaining a social distance during the coronavirus lockdown.
This article is now available above as a Brainstorm podcast. You can subscribe to the Brainstorm podcast via Apple, Stitcher, Spotify or wherever you get your podcasts.
If, like me, you are the parent of an eight year old, you are now in the midst of unchartered territory. You are trying to keep your day job going as best you can, and keep everything on track from that perspective, while also trying to ensure that your child stays safe and well.
Yesterday was Day 1 and I can already sense the unspent energy building up in my daughter like a timebomb. This is the energy that is usually expelled through school break times, interactions with her friends, and after school and evening sport or other activities. I know I need to come up with a good plan for Days 2 – 17!
The priority: minimising social interactions
The reduced social interaction with friends is a difficult one, particularly if your child is an only child like ours and it may be a bit easier if you have a few other kids at home. But I know from friends that that scenario soon overspills into arguments and other types of carnage so really, we are all in the same difficult boat, albeit boats of varying shapes and sizes.
From RTÉ Brainstorm, Jennifer Kavanagh from DCU on why risky play is good for kids
Ultimately we have a social responsibility not to give into our kids over the coming days and weeks when they pester and pester to go out and play with their friends or to arrange various playdates. Primary school children in particular cannot be expected to apply social distancing rules if we put them in a situation where they are playing with their friends. They are kids and will behave as kids do. Simply put, we need to make sure that their immediate family is the only physical social contact they have over the coming weeks. This is going to be difficult, and will take serious resolve from all parents – but ultimately it is what we need to do for the greater social good.
Keeping active (and sane!)
So, what can we do to keep ourselves and our children sane as we apply this principle, and pull together for public health? One particular thing to emphasise is the importance of physical activity. Being physically active is an essential ingredient for the health and wellbeing of the human being. It positively benefits us in countless critical way, physically and psychologically. When we do not get the physical activity we are used to, it can affect us negatively. Most predominantly we feel it in our mood in the first instance, but we may not readily realise that it is a lack of activity that is bothering us (and our children).
From RTÉ Radio 1's Ray D'Arcy Show, Joanna Fortune, author of 15 Minute Parenting, about how to talk to your children about the coronavirus
For the sake of both our physical and mental health over the coming weeks, we need to find ways to integrate good chunks of physical activity into our daily schedule, and stick to it. We need to get outside and get moving. And when doing so, we need to make sure that we maintain the minimum social distance from others with a similar mission. The good news is that this is completely doable once you are out there with your child.
Setting a target
As a rule, adults need at least 30 minutes of "moderate to vigorous physical activity" almost every day, while children need 60 minutes of this same level of physical activity every day. "Moderate to vigorous physical activity" is activity that makes your heart and lungs work harder than they normally have to, and is usually considered to be a good fast walk or an activity such as jogging, running and cycling. This is the level of intensity we need to move at to get a health benefit, and to maintain our health and wellbeing.
Some people may see this target as difficult to achieve. That's absolutely OK, a lot of people feel this same way. The trick is to set yourselves a realistic target now for the coming days, be it 15 or 20 minutes of activity. This target should be a little more than you usually do, not too easy to achieve, but achievable. Then yourself and your kids set yourselves the task of building on this every couple of day by adding 5 extra minutes.
From RTÉ News, Dr Anne Marie McLaughlin, Respiratory Consultant at St James's Hospital, on what children should and should not be doing during the coronavirus outbreak
Active family time
We each need to identify ways to get the above physical activity built into our day now, with the added constraint of maintaining social distancing. What this means is that we do the activity with our children and we don't send them outside to be active on their own (unless to a walled-off back garden of course).
Some ideas on how we might go about this include:
· Go to the local park, or any open green area. Go for a walk together, a cycle, a scoot.
· Walk a block or two of the local neighbourhood.
· Bring some chalk outside and draw hopscotch markings, have a game.
· Teach your child to skip, or have a skipping competition.
Have you ever given a child a toy only to find they prefered playing with the box? There could be a reason for that, as @ChristinaCDuff @DublinCityUni explains. Find out more on @RTEBrainstorm radio show tonight 10pm @RTERadio1 pic.twitter.com/Yl9zUBUaSz

— RTÉ Brainstorm (@RTEBrainstorm) July 25, 2019
· Challenge your child to teach you a new skill or activity that they learned in PE class at school.
· Grab a football, basketball, a sliothar or even a tennis ball. Be creative with the amount of different ways you can play with this. Throw it, bounce it, kick it: your child will come up with lots of ideas if you ask them.
· Be active in the house too. There are lots of things you can do, from active video gaming to games like Twister to GoNoodle, a popular website teachers use for integrating physical activity in the classroom.
Do remember to keep building in activity that really involves you and your child moving your whole body as this will give you heart health benefits as well as skill development benefits. Again, you can do this outside your front door, in the back yard or even better, in a large open green area such as a park or big field if you are lucky enough to be able to access one.
A silver lining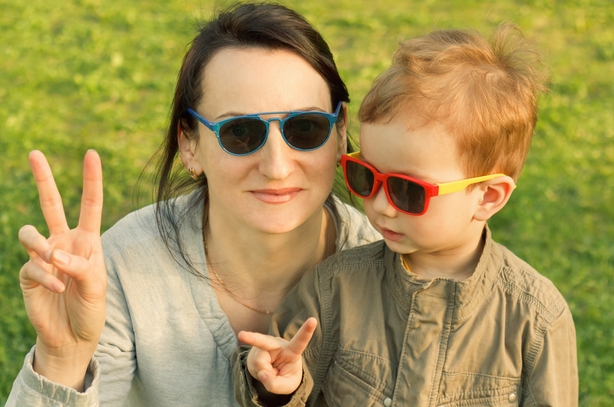 As parents, we need to keep ourselves and our children sane over the coming weeks and it won't be easy. I can promise you that building physical activity in in a systematic way will have huge benefits for you psychologically in terms of how you all feel day to day in the short term.
In the context of the current crisis, the huge benefits to you and your child's physical health may almost be considered secondary. Rather than seeing this as a chore, let's see it as an amazing opportunity to develop a positive physical activity relationship with our child, something that may well live and flourish long past the current crises.
---
The views expressed here are those of the author and do not represent or reflect the views of RTÉ
---