Opinion: a sudden fuel price hike has brought thousands onto the streets in the latest wave of violent protests in Iran
This winter has become a hot season of contention in Iran as protests took place in 100 cities around the country over the last few days. The third wave of national strikes since 2017 began when, without warning, the government announced a rise in the price of fuel by as much as 200% last week, a midnight announcement which came as a shock to the public.
This came on the back of a long-running controversy about subsidising fuel and monthly quotas for the public and private consumers. US president Donald Trump's "maximum pressure campaign" has reduced the volume of Iran's oil exports from 2.5 million to around 400,000 barrels a day. Inside the country, the inflation rate has risen to more than 40%.
In these circumstances, increasing the price of fuel and cutting energy subsidies was an inevitable solution for the government, but the announcement caused widespread criticisms that first emerged on social media. The morning after the announcement, thousands of unhappy people were on the streets. While only a few provinces in southern Iran saw demonstrations in the first day, the protests escalated and had spread around to around 100 cities by the third day.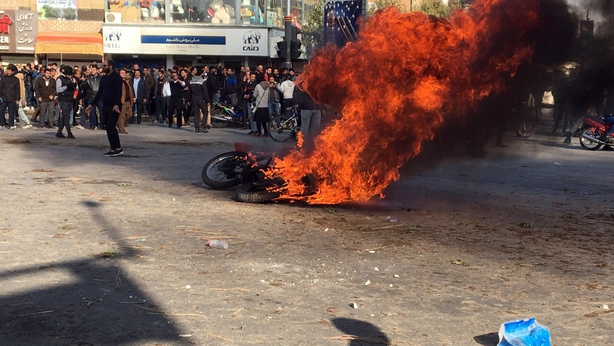 Similar waves of strikes had occurred many times in the past, especially in April 2018 and December 2017, when major cities protested about the economic crisis and the downfall of Iranian currency. However, the government's reaction has been very different this time. Previously, President Hassan Rouhani's administration took a softer approach to public protests and avoided intense repression. But the current strikes have been facing a crackdown from the police and security forces from the outset.
The Supreme Leader Ayatollah Khamenei described the current protesters as "evils" and Rouhani said that the size of strikes were "not considerable". They also claimed that protestors are provoked and weaponised by western enemies. Security forces have been removing strikers from the streets, which so far is believed to have resulted in more than 1,000 arrests and 106 deaths.
For the regime, the risk is about the fact that "strikers are hungry people that do not have anything to lose", while severe international sanctions are also in place. Rouhani has acknowledged that 75% of Iranians are currently under economic pressure.
We need your consent to load this rte-player contentWe use rte-player to manage extra content that can set cookies on your device and collect data about your activity. Please review their details and accept them to load the content.Manage Preferences
From RTÉ Radio 1's This Week, journalist Baqer Moin profiles Hassan Rouhani after his re-election as Iranian president in May 2017
The Iranian government has also brought in a nationwide internet shutdown to prevent the progress and organisation of protests. Beginning last Saturday evening, most of the country lost access to the internet and this shutdown prevented protesters from telling their stories and sharing their images of street clashes.
As a result, nobody knows exactly what has been going on inside Iran, though some citizen-journalists have managed to send videos and photos of street demonstrations via Instagram and Twitter. While the government claims that the strike is over, new images come on social media every day showing attacks on police stations and vehicles and damage to state buildings and Islamic schools. As Google Traffic Maps show, many streets have been blocked by furious people,.
Before 2017, the Islamic Republic had experienced two other waves of nationwide demonstrations, which were merely political with elites at their centres. One was organised by student activists in 1999 during President Khatami's political reforms, and the other took place in 2009 with Reformists objecting to that year's presidential election.
We need your consent to load this YouTube contentWe use YouTube to manage extra content that can set cookies on your device and collect data about your activity. Please review their details and accept them to load the content.Manage Preferences
From France 24, a report on how Iran shut off the internet after widespread protests
However, the current protests have revolved around economic demands. Protesters have been chanting against government corruptions, warning the Reformist and Conservative groups that their turn is over and saying that they no longer have hope for a genuine change taking place within the Islamic Regime.
The composition and organisation of the protests also indicate its economic nature. Those who have been unable to afford the growing inflation rate, such as shopkeepers, labourers, teachers and taxi drivers, triggered the current strikes via social media. There is no political group leading it and the Reformist and Conservative parties have remained silent so far.
READ: 40 years of politics, change and protest in Iran
It is not clear where it goes from here or if it will end with regime change or a change within the regime. However, there are a few implications worth noting. The interval between nationwide protests in Iran has become shorter and shorter and gone from every decade to every year, with the economic and political discontents growing at the same time. Iranians are also receiving inspiration from the current uprisings in neighbouring countries like Lebanon and Iraq. At the same time, however, authoritarian leaders are cracking down on the protestors and strikers. The destination right now is unclear.
---
The views expressed here are those of the author and do not represent or reflect the views of RTÉ
---