Analysis: Countries are healthier when they have more female politicians, with scourges like maternal and child mortality rapidly plummet when legislative representation by women reaches 30% and more.
By Ross Macmillan, University of Limerick and Amy Johnson
Many popular studies have asked whether women are disadvantaged in elections because of their gender and whether this discriminates against female candidates and limits their involvement and influence in politics. Implicit in these studies is the idea that voters shouldn't care about a candidate's gender, so long as there is fair and just representation among women and men in legislative bodies.
But our recent research results suggest that we've missed the point completely, and that gender may indeed be a very important consideration when deciding whom to elect. Because in countries with more female presentation, scourges like maternal and child mortality rapidly plummet when legislative representation by women reaches 30% and more.
On RTÉ Radio 1's This Week, RTÉ's Laura Hogan reports on new government plans to incentivise parties to select female local election candidates.

On average, women and men have quite different values. Women often place more value on social welfare, health, and well-being and are more critical of economic inequalities and policies that limit redistribution.
These differences aren't surprising given that women continue to be primarily responsible for the care and well-being of children, as well as the maintenance and routine functioning of the family.
This has remained true even after their mass movement into paid employment over the last three decades and evidence indicates that female candidates bring these concerns into their platforms.
Given these differences, we would expect increases in female political representation to change societies in important ways, and they do.
From RTÉ Radio 1's News At One, Director of the National Women's Council of Ireland Orla O'Connor says the result of the local election shows not enough is being done - especially by the two big parties- to promote women in politics.
Our research focused on child and maternal mortality, which are indicative of a population's health and a country's level of social and economic development, in 155 countries spanning 1990 to 2015.
We were specifically interested in whether a critical mass of female legislators—30% or more, per UN Equal Opportunities Commission recommendations—resulted in fewer deaths. We focused on low income countries with developing democracies because these are the places where mortality among mothers and children continues to be a significant social problem.
The results were striking. For child mortality (see graph A below), rates are very high when the percentage of female legislators is low. Not much changes with increases up to 20%, but small declines are seen when female representation approaches 30%.
The real story occurs when female political representation exceeds 30%. Here child mortality is cut in half and is no different than rates seen in high-income countries.
The same story holds for maternal mortality. Again, death rates are high when the percentage of female legislators is low, decreases a little with moderate representation, yet plummets at the 30% threshold.
Mortality is actually lower in extremely poor countries with high levels of female political representation than it is in wealthy countries at any level of representation.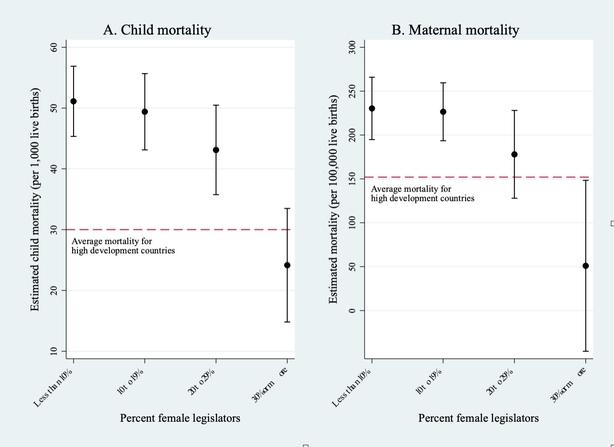 Rwanda is a particularly interesting case study. It remains one of the poorest countries in the world, ranked 167 of 183 countries with respect to gross national income in 2017. It experienced the horrific genocide of the mid-1990s that destroyed the country economically, politically, and socially. Yet, it also has seen some of the largest increases in female political representation of any place in the world.
Graph B shows that the percentage of female legislators was close to zero in the early 1980s and rates of child mortality were very high. Small declines were erased with the genocide of 1994 and child mortality skyrocketed - three in ten children died before the age of five. The genocide also erased all gains in female political representation.
Yet, the period from the mid-1990s to now shows a remarkable association between female political representation and child mortality. As the percentage of female legislators increased to more than 60%, child mortality plummeted, decreasing by more than 80% and reached a level that makes it among the lowest in all of the southern hemisphere.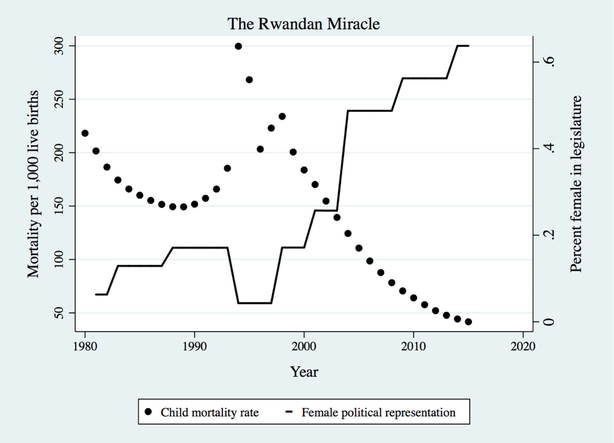 Our findings are actually quite ironic. Study after study shows that the average voter has almost no information about the candidates they will vote for. Almost nobody does any research on candidates, their records, and their views. But what does everyone know when they enter a voting booth? The party and name—and thus gender - of the candidate.
When it comes to issues like health, welfare, and well-being, that may be remarkably important information. Because if voters are inherently biased against female candidates, that could keep their countries from making strides against fundamental problems that keep them from developing socially and economically.
---
The views expressed here are those of the author and do not represent or reflect the views of RTÉ
---