Analysis: supporting young athletes to rise to the challenge will give them a better chance to succeed at the elite level
This article is now available above as a Brainstorm podcast. You can subscribe to the Brainstorm podcast through Apple Podcasts, Stitcher, Spotify or wherever you get your podcasts.
By Áine MacNamara, University of Central Lancashire
We are often quick to fete the next big thing or wonder kid in sport for their prodigious talent. But, some notable exceptions aside, history tells us that outstanding success at a young age is a poor predictor of adult success. For example, it is interesting to note that no winner of the Tony Forristal All Ireland Under 14 Hurling Competition has ever gone on to be successful at minor level. So, why do many successful young athletes fail to convert their potential into senior performance?
The majority of talent development systems in sport try to smooth the pathway for young performers and expend a great deal of effort and resource trying to counter the impact of naturally occurring life stressors and the challenges of the sporting pathway itself. Indeed, providing an ultra-supportive environment by minimising challenges and allowing young performers focusing on their sporting commitments seems like a sensible or at least a face-valid approach. "Snowplough parents" push all the difficulties out of their child's way and helicopter coaches endeavour to make things a simple as possible for their athletes, avoiding challenge to keep the youngsters motivated and moving forwards.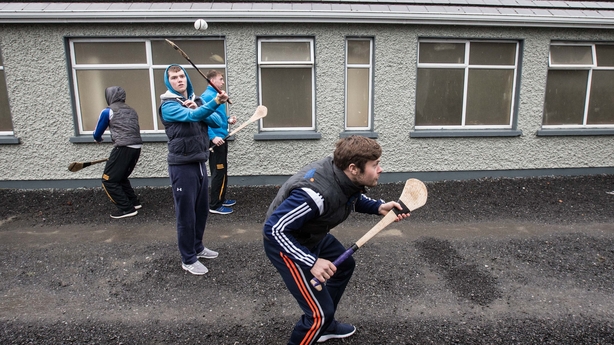 However, there is growing recognition that young athletes need challenge as part of their developmental diet and almost all will thrive on an optimum balance of challenge and support. A good example of this is taking the stabilisers off a child's bike. The child will fight for balance as you run along beside them holding tight to prevent the inevitable tumble and tears. The trouble is that falling IS almost inevitable! Stay hanging on and they remain safe and fall-free but they don't learn to ride the bike.
The bottom line is that some challenge and, indeed, some failure is not only inevitable but crucial for progress. Furthermore, the long term impact of such failure, so long as the young athlete sticks with the sport and (hopefully) overcomes it, is an important way to generate a resilient, "takes the knocks but keeps going" characteristic that is important for eventual success in sport and elsewhere.
In an attempt to learn more about the role of challenge, we conducted a study called Superchamps, Champs and Almosts. Firstly, we recruited a "Superchamp". defined as someone who had won five or more Olympic/World medals or 60 or more caps if it was a team sport athlete). We then recruited "Champions" (one or no medals/three or less caps but a high-level performer) and "Almosts" (successful junior, often at international level but semi-pro or lower as an adult) to make up trios of participants. We then asked each participant to sketch his or her pathway with the idea that the performer sketches his or her perceived progression in their sport.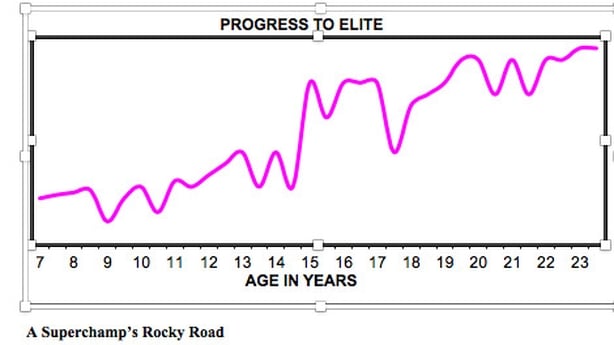 One immediate finding is how bumpy the ride was for the Superchamps, in comparison to the "this is easy…look at me" experience of the Almosts. Superchamps had an early life which was packed with a variety of challenges. As a result, they learnt to balance different demands, learning personal organisation, focus, goal setting and planning skills along the way, psychological skills that are important for high-level performers and the key mental skillset for success. Interestingly in their sport, they were not seen as a rising superstar, nor pushed as one, nor seen as one by themselves. Rather they (mostly) enjoyed coping with the challenges and the learning experience. In contrast, the Almosts were characterised by a linear and smooth ride up to a certain level where, all of a sudden, the wheels come off and they either plateaued or dropped out of the sport all together.
This study offers some important advice for parents and coaches. The Almosts described parents and coaches who pushed away any difficulties for their child in their early years and offered encouragement and resources to smooth the path to the top. As a parent, I can completely understand this approach because everyone wants the best for their children. It is also understandable as a method for youth sport coaches. Keeping things simple is a way to ensure quick improvement, which keeps the performer motivated and their parent "on side".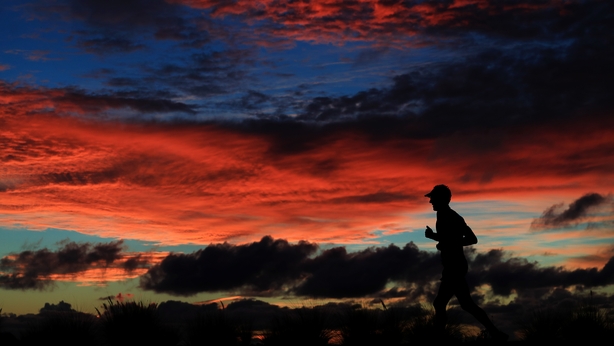 Unfortunately, this rapid progress is often an illusion. By contrast, parents of Superchamps tended to take a back seat with their children's sport involvement. They were certainly encouraging, but helped to keep things in perspective by being interested in all aspects of their child's life. Likewise, the Superchamps' coaches set, demanded and got high standards of behaviour and commitment from the athletes. Coaches of Superchamps were very aware of everything else that was going on in the young athlete's life, with adjustments to sporting demands made as appropriate.
In comparison, parents of Almosts were VERY involved; committed to supporting their child but also pushing her/him forwards at every opportunity. Other activities tended to be forgotten, whilst the parents were frequently in contact with the coach, demanding the very best extra special treatment for their child. In a similar fashion, coaches of Almosts heaped praise, time and attention on their young superstars. This lasted as long as the young athlete was doing well - when this changed, the attention stopped.
The clear messages are that keeping things general and helping your child/athlete to overcome challenge rather than helping them to avoid it are key elements for future super success. The Rocky Road to Success has a number of side alleys, detours and ways to get lost, but also some shortcuts and motorways if you navigate well. Supporting young athletes to rise to the challenge will give them a better, more flexible, robust and adaptable set of skills and the chance to succeed at the elite level.
Dr Áine MacNamara is an Associate Professor in Elite Performance at the University of Central Lancashire
---
The views expressed here are those of the author and do not represent or reflect the views of RTÉ
---