Opinion: it's time for the birds hatched at Easter to become the stars of the show on the Christmas dinner table
This article is now available above as a Brainstorm podcast. You can subscribe to the Brainstorm podcast through Apple Podcasts, Stitcher, Spotify or wherever you get your podcasts
It is almost turkey time. Last Christmas in Ireland, we spent an impressive €13 million on two million kgs of turkey. It will be eaten by 94 percent of Irish people in the days ahead, mostly stuffed, roasted or as the key ingredient of soups, and sandwiches. This puts us fourth on the list of the top 11 countries that consume the most turkey in the world. Next week, you'll be sitting at the table having the second-best meal of the year (Stephen's Day beats it and you know it does). Amid the spuds, veg and gravy will be star of the show – the turkey
Each year, we rear four turkeys on my small farm. All are christened by members of my family so we have the gorgeous - and my favourite - Kristin Scott Thomas, Leo the leader, Donny Osmond and, the belle of the turkey house, Angeline Jolie. One becomes the centrepiece of our Christmas Day celebrations and the balance are jointed and put in to the freezer.
From RTÉ Archives, a Garda Patrol report from 1972 on turkey thieves in Swords, Co Dublin
My named birds are in good company with President Trump pardoning two birds on Thanksgiving Day. Peas and Carrots were both hatched on June 28th this year. The White House published a fact file on the birds, which revealed that Peas enjoys ice fishing, watching planes and the music of Brad Paisley. Carrots likes to eat M&Ms and is said to be fond of yoga.
These beautiful traditional white turkeys experienced a day to remember before they met the President in the five-star Willard InterContinental in downtown Washington DC. Amenities at the hotel include massage and body treatments, as well as complimentary wifi and a buffet breakfast.
From RTÉ Archives, RTÉ News reporter Andrew Kelly meets the world's fastest turkey plucker, Vincent Pilkington from Cootehill, Co Cavan in 1980
No such glitz and glamour for our flock, but they're very fine birds nevertheless. The bronze are special with an extra layer of fat under the skin which means they practically self-baste while cooking, giving you beautifully moist and succulent meat. I love keeping turkeys for the same reason that I love going to the trouble of making my own elderflower wine and cider for Christmas as opposed to just buying it in the shop.
The fact that the turkeys are out and about in the fresh air, with unlimited access to grass, worms, insects, nettles, dock leaves and thistles, makes the meat particularly delicious as the flavour intensifies. The meat has a firmer texture, a bit like comparing the softer texture of farmed salmon to its more muscular cousin, the wild salmon, who swims in the oceans and the rivers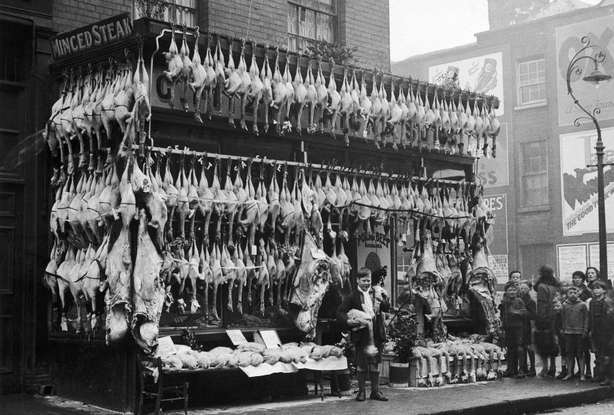 Traditionally, turkeys would have been hatched at Easter and fattened for Christmas The modern, commercial super-sized Arnold Schwarzenegger type turkey is bred to put on weight quicker than grass reared birds. They have a better ability to convert food into muscle, which is called the feed conversion ratio. The idea is to get them up to weight quickly so it costs less to feed them and hence it is a more profitable enterprise.
Turkeys have some unique characteristics. There are all those wonderful "gobble-gobble" sounds for one thing. They sometimes look at you with their blue eyes and head cocked as if to say "what is your game buddy?" I sometimes wonder if they know what we know. When evening falls, turkeys head for a wall or a dung heap or a tree to roost. Each night since we got them, we've had to lift them down from a tree and put them into their house as Mr and Mrs Fox are about with a litter of cubs to feed and they're also fond of turkey.
From RTÉ Archives, PM report on the Irish turkey market in 1977
For turkey farmers, the need to increase profitability and improve the welfare of the turkey has meant a lot of interest in Flock Guard. This has been developed by researchers at the DIT Agriculture Analytics Research Group working on an innovation partnership with PE Services with the aid of Enterprise Ireland funding.
This innovative visualisation techniques enables a farmer to monitor performance in real time via their smartphone. A dashboard shows how their flock is performing and provides information to prevent issues becoming problems. The Flockguard system is an aid not just to improve enterprise profitability, but also one which improves the welfare of the turkey.
---
The views expressed here are those of the author and do not represent or reflect the views of RTÉ
---