Opinion: aside from the comedy, the hit Cork-based TV show also offers heart-wrenching social commentary
By James Windle and Katharina Swirak, UCC
Loved by Corkonians for putting "their city" on the screen and critiqued by some who suggest a touch of middle-class voyeurism, The Young Offenders has become one of the most viewed television series of recent years, particularly amongst 18-24 year olds. Beyond the comical qualities that viewers enjoy when watching the ups and downs of Conor and Jock's ordinary and extraordinary adventures, The Young Offenders offers heart-wrenching social commentary.
The portrayal of the two young teenagers from the northside of Cork City parallels several classical criminological theories that explain young people's transgressive behaviour. Criminologists, such as Jack Katz and Walter Miller, have long identified the thrill of crime as an antidote to boredom and a means to escape the monotony of life.
From RTÉ Ten, Young Offenders stars Chris Walley, Alex Murphy and Hilary Rose talk to RTÉ Entertainment about the second series of the show
In The Young Offenders, boredom and monotony, often depicted by Conor and Jock sitting listlessly on steps and benches, are intersected by bouts of daring offending. Bikes are stolen to goad the gardai into a chase rather than to sell. The theft of a fish in Episode Five - an entrepreneurial crime (albeit one to support Conor's mam) – is made into a game with Jock's narrative playing out like an adventure movie in which the protagonists must avoid wild animals and competing gangs. It's a scene harking back to sociologist Frederic Thrasher's argument that nothing could be more exciting for a young person than imaginative play using the city as a backdrop.
The city, however, remains a highly unequal playing field for young people such as Conor and Jock. Research has shown that the collapse of the Celtic Tiger in the late 2000s has further restricted opportunities for disadvantaged young people in Ireland. One outcome of this socio-economic exclusion is that young people like Conor and Jock can't participate in comparable leisure activities as the adults in their lives.
Meet The Young Offenders: Alex Murphy and Chris Walley talk about turning their hit movie into a TV series
Criminologist David Downes argued that many young people from disadvantaged backgrounds engage in crime to pay for what are normal activities for adults or their wealthier peers. The stealing of bikes and the fish are symbolic of Conor and Jock's lack of access to achievable opportunities. For example, bike theft allows them mobility to take their girlfriends on a date, while Jock promises his girlfriend that he would use the profits from the fish heist to buy her a meal.
Interwoven throughout The Young Offenders is the astute observation that institutions run by adults, such as schools and the Gardaí, often treat young people from working class areas differently than their peers. For example, the school principal shakes Sergeant Healy's hand in the first episode, but stubbornly ignores Jock and Conor. Research has shown how young people in Ireland are often stereotyped by adult society across various life domains. In addition, young people from poorer neighbourhoods are policed more intensely by the authorities.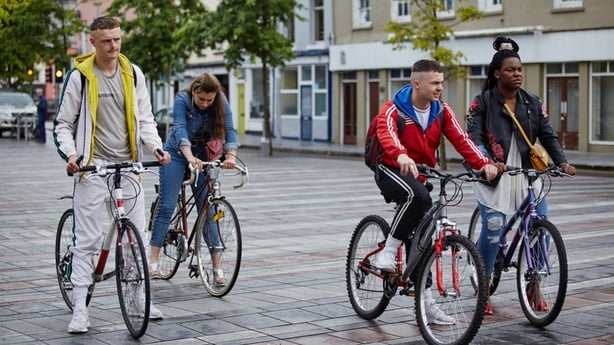 Throughout the series, we see how Conor's overwhelmed and financially struggling mam loves and supports her son. The relationship between Conor and his mam is contrasted by Jock's abuse from his alcoholic father and Billy Murphy's neglect shown in the final episode.
Recent research shows that the greater the number of adverse childhood experiences a person faces, the greater the risk of experiencing a host of negative health and wellbeing outcomes. Indeed, Conor's mam turns out to be that "one good adult" that young people need to provide a buffer against adverse life circumstances. When she witnesses an episode of Jock's experience of physical and emotional abuse, she decides to take him in and might thus mitigate some of the damage caused by his traumatic family situation of neglect and abuse.
From RTÉ Radio 1's Ryan Tubridy Show, Young Offenders' star Demi Isaac Oviawe discusses her Leaving Cert results and her plans for after secondary school
Overall, The Young Offenders manages to provide a nuanced and sympathetic depiction of the lived realities of many young people in Ireland. This is in stark contrast with common political and media depictions portraying young offenders as one dimensional violent "scumbags" or entrepreneurial predators. Indeed, compare Conor and Jock with would-be gangster and cat killer Wayne in Season Four of Love/Hate.
In fact, professionals who work with young people in trouble with the law across local communities in Ireland will recognise many of Jock and Conor's experiences and behaviours. Similarly, the Irish youth justice system is increasingly designed around the complexity of needs of young people in trouble with the law. Nevertheless, policy makers, professionals and indeed academics would be well advised to ensure that our best intended policies and interventions don't mask "class-cultural evangelism" by squarely ignoring the socio-cultural context of young people.
The Irish youth justice system is increasingly designed around the complexity of needs of young people in trouble with the law
The makers of The Young Offenders draw our attention to intricate details of Jock and Conor's stylistic choices in terms of clothing and hairstyle, but also their "embodied practices", such as their slang and body language. The social context of these practices is all too often forgotten. Yet we know that the chosen image of "being hard", revolving around displays of physical strength and daring, is often adopted as common survival mechanism and means of gaining respect when navigating the streets.
To conclude, we hand over to Conor for some reflective insight. His reply to the principal's derogatory name-calling as a "little scumbag knacker" should hopefully make us cringe next time we catch ourselves repeating our own deeply held prejudices: "you haven't taken the time to find out anything about me, you don't know what I'm good or bad at. You just see this face, hear my accent, see how I dress and you have your mind made up."
Dr James Windle is a lecturer in Criminology and Director of the BA Criminology Degree at UCC. Dr Katharina Swirak is a lecturer in Criminology at the School of Sociology and Philosophy at UCC.
---
The views expressed here are those of the author and do not represent or reflect the views of RTÉ
---