Opinion: to mark World Autism Awareness Day, Enda Dodd talks about the tools which have helped his kids communicate a way out of the isolation of autism
For those who have come to know our family around the world, they will tell you that we invest much of our energy in understanding communication. I say this because we believe and live a life immersed in and enriched by this understanding. We are a family who have faced great adversity and ultimately survived. This is a story that relates how we overcame a diagnosis of severe autism where our sons would never learn to communicate. How we transcended this diagnosis through a series of miracles. And mostly, why all this matters.
Over the years, much like anyone making their way in the world, my wife Val and I have always had a healthy curiosity for the human condition. But when our children were diagnosed as severely disabled as toddlers, nothing we had experienced up to this time prepared us for what was coming.
Autism is a really strange condition to be diagnosed with. It's a condition where an elementary teacher might say of your child: "he's very intelligent, but I have no idea how to reach him, he just can't communicate, he doesn't fit here, there must be somewhere else for him". Or the local athletics' club confides in you that there are parents who don't like their kids mixing with your less than perfect child, least they might be somehow damaged by the experience. I could write pages on this, but the word most pervading these pages would be "hopeless".
Why all this matters
We started as anyone might when they receive this kind of news and looked for some uplifting stories of families overcoming autism. There were a few, but they were largely the realm of the wealthy or the lucky on closer examination. Like most, we never had the resources to pay for that rare and unique private school and all that goes with it, like the speech therapy, occupational therapy, social training, rent-a-friend for your 'special' child, to mention but a few. In the US, which has the most autism services, you are talking anything up to $150,000 per year to create the kind of miracles which families like us are looking for.
Recently, our sons Conor and Eoin turned 21, and their story today is of two young men programming full time at a research centre in a leading university. They are contributing their energies to creating the tools and a road map that any family can follow out of the isolation of autism, something they really feel strongly about. Conor and Eoin are making a real difference in the world today, because of who they are, not because of how they were labelled.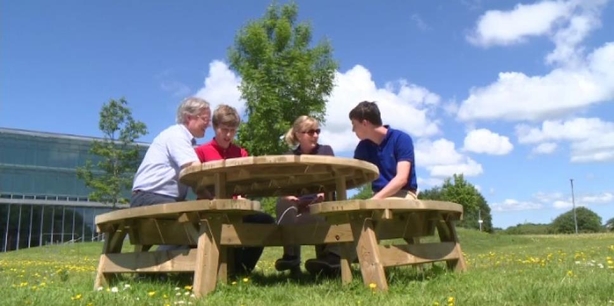 Today, we and the boys are working with over 400 families around the world, families whose children have started life much as ours did. Children who would never communicate and destined to live their lives in the shadows. Yet through the boys' efforts and that of an extraordinary support team across the globe, these children will communicate and emerge to take their place in our world.
We are only beginning, but the Animated Language Learning (ALL) system has recorded over 50,000 answers to language exercises from children who were often described as unreachable. Their activities on ALL grow language and open up our understanding of their reasoning and use of language, much in the same way that Conor and Eoin did.
In this, the support we have received at NUI Galway has been wonderful and has enabled the boys in a truly special way. Our increasing understanding of the ALL data is teaching us how to unlock these children. Indeed, leading NUI Galway researchers in computer science and artificial intelligence are assisting in the mapping of this data while being uniquely supported by the school of education.
What comes next?
Our work in this area has led us to conclude that language is a gateway to life. Autistic children emerging with language need to learn how to interact with society, just as society needs to accommodate their differences. As Val constantly says, language is ultimately experiential and is only truly understood in its social use. Our family splits its time between the creation of the ALL language programs and advising parents on how to grow their children in line with their abilities and not society's expectations. Our website receives hundreds of thousands of visitors who draw from Enda and Val's blogs on everything from going to the supermarket to dealing with the death of a family member.
Our work in this area has led us to conclude that language is a gateway to life
Our research center in NUI Galway has attracted the support of Disney, Adobe, Microsoft and Google. I've traveled to Brussels with a view to establish the funding needed to make a real impact in the autism world. NUI Galway is the hub of our endeavour and the spokes reach out around the world.
And at the centre of it all are Conor and Eoin, young men who possess an understanding possible only from their unique experiences. Our story will soon become enriched by the academics, teachers, parents and children who are rewriting their futures built on the shoulders of two young men once described as hopeless. Two great communicators who even today are largely non-verbal.
---
The views expressed here are those of the author and do not represent or reflect the views of RTÉ
---