The Brainstorm long read: over the past 100 years, tear gas has been used to lure soldiers from hiding, disperse protesters and quell prisoners, but we know little about the damage it has caused and the lives it has harmed
By Dr Anna Feigenbaum, Bourneumouth University 
The defiant protester. The running crowd. The chaos. You may have seen so many shots of tear gas smoke that these images have come to feel like stock photography. A poison cloud that has become a lazy signifier of troubled times, a metaphor that has lost its power through repetition. You turn the page. You flick the channel. Your thumb scrolls down the Twitter feed. After all, they say it's safe.
On February 14, 2011, two weeks into the Arab Spring uprisings, people in the tiny Gulf state of Bahrain called for their own day of action. Peaceful pro-democracy demonstrators flocked to the streets. Young people, Sunni and Shia, gathered at the capital city of Manama's Pearl Roundabout, many carrying Bahraini flags. They called for a new constitution that would end the royal family's rule. As they marched, the government retaliated with a violent crackdown. Rubber bullets flew and tear gas saturated the streets. The police killed two protesters that day. The BBC reported that the Saudi and US governments might soon intervene.
As the protests continued, the police shot tear gas into cars, homes, and mosques. Hundreds went to the hospital with head trauma, lost eyes, miscarriages, and respiratory failure. Bahraini civilians and independent journalists used social media to distribute and circulate images of canisters bearing the logos of the US companies Federal Laboratories and Combined Systems Inc., along with Brazilian exports from Condor Non-Lethal Technologies. The New York Times wrote of "systematic and disproportionate use of tear gas" in Bahrain, drawing international attention. Amnesty International condemned its use and Physicians for Human Rights released a report after the first eighteen months of protests that documented thirty-four tear gas–related deaths. Among the victims were babies, children, and the elderly.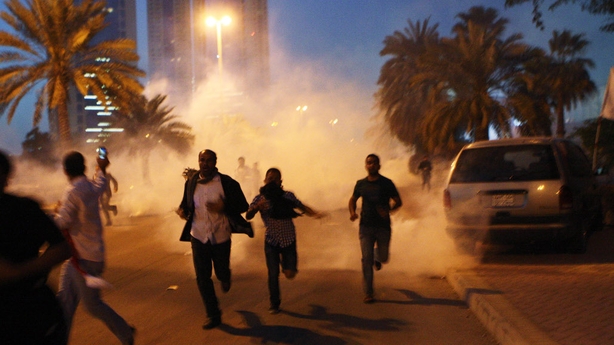 While Bahrain's "weaponized" use of tear gas exceeded that of its neighbours, 2011 came to be known as both the Year of the Protester and the Year of Tear Gas. Sales executives reported that tear gas purchases had tripled. Excessive use in Egypt made headlines. Deployments in Occupy protest camps in the United States, including repeated close-contact pepper-spraying of unarmed protesters, often in confined locations, drew controversy. In Chile, police use of tear gas on student protestors was so excessive that the medical community intervened, putting pressure on the government to change its policies toward tear gas use, with some success: a study released by Chilean researchers on the effects of tear gas on pregnant women caused a temporary halt in the government's deployment of the weapon.
Since 2011, tear gas remains the international weapon of choice for riot control. Sales projections are still up, with business booming in the Middle East and markets growing in Africa and South Asia. Hundreds more around the world have died from its effects. People have lost eyes and limbs. They have suffered brain damage, third-degree burns, respiratory problems, and miscarriages. Their animals and their crops have been poisoned.
How much damage has tear gas caused? How many lives has it harmed? Nobody knows, because nobody counts. In fact, there is no legal obligation in any country, anywhere in the world, to record the number of deaths and injuries from tear gas. Likewise, there is no legal obligation to record its deployment, its export, its purchase, or its environmental damage. For nearly a hundred years now we have been promised that tear gas is safe. It's just clouds of smoke that make you cry—no need to record its harms. The deaths are just accidents. After all, would you rather they shot you for protesting?
You may have seen so many shots of tear gas smoke that these images have come to feel like stock photography
In 2013, our research team at Bournemouth University began to attempt to map mass tear-gassings around the world. Limited as we were by language barriers and flooded with new reports, our numbers were far from precise. But certain trends began to emerge.
We need your consent to load this YouTube contentWe use YouTube to manage extra content that can set cookies on your device and collect data about your activity. Please review their details and accept them to load the content.Manage Preferences
In the first twenty days of Turkey's Occupy Gezi protests, police used 130,000 gas canisters of tear gas—the equivalent of a year's supply—before quickly ordering more stock. Hundreds of these canisters sent protesters to the hospital with muscular, eye, and head injuries. On May 31, 2013, a tear gas canister hit Lobna Allami in the head during a violent crackdown on peaceful demonstrators in Taksim Square. A dancer with a master's degree who spoke four languages and engaged in volunteer work from litter collection to animal rescue, Lobna was known for speaking out about injustice. After twenty-five days in a coma, two brain surgeries, and months in intensive care, Lobna survived. The tear gas canister had fractured her skull, causing bone fragments to pierce her brain. "I am grateful that I am alive," Lobna told reporters from the newspaper Hurriyet after her recovery. "But I cry a lot because a lot of me, my abilities and my knowledge, are gone. I cannot read, I cannot write. And worst of all, I cannot speak the way I want to." Lobna was one of more than eight thousand people injured by police use of force during the 2013 protests in Turkey (more than two hundred of them with head or brain trauma).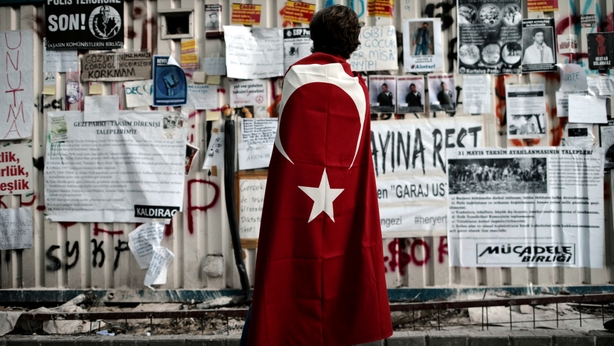 On June 15, 2014, in Rio de Janeiro, two hundred marchers faced tear gas and stun grenades on their approach to Maracanã Stadium, host of the World Cup. Their campaigns against austerity measures, government corruption and wealth inequality were met with an arsenal of less lethal weapons. Employing tactics imported from US SWAT (Special Weapons and Tactics) teams in the early 2000s, Brazilian police clad in riot gear released chemical agents supplied by Rio's home- grown company, Condor Non-Lethal Technologies.
Just months later, the uprisings in Ferguson, Missouri, following the lethal police shooting of Mike Brown, became a tipping point in public debate around police militarization. After getting tear-gassed for a couple of days in Ferguson, protester Tory Russell told a reporter for the BBC, "You no longer feel American." He realized:
It does something to you first mentally before it even hits you. You smell the tear gas, as it goes in. It's not even air when you breathe it in, so you are actually choking. Right? And then you don't know and you panic. Mentally, you don't know what to do. It takes away your reasoning, instantly. You don't know what to do. Then you try to scream, you can't breathe. It goes into your lungs, your chest, it constricts. You can't breathe ... And all this is in like ten seconds. Then you just start crying. Tears just ow down, you start sneezing, coughing. If you don't get out of that five-yard ratio, then you're instantly going down to the ground.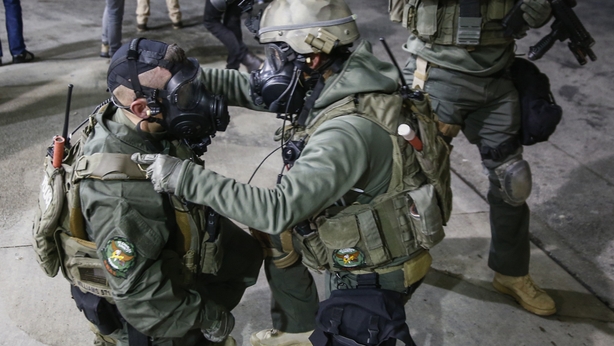 The protests in Ferguson went on for months. Late at night on November 24, 2014, after giving an order to vacate the area, police began to re tear gas canisters indiscriminately into a crowd. Panicked, many ran into a nearby coffee shop which then filled with gas, creating a dangerously toxic atmosphere within the con ned space. In December 2014, six plaintiffs— including four Ferguson protesters, the shop owner, and a legal observer—filed a complaint. Following a settlement reached in March 2015, police of officers from three Missouri agencies agreed to give proper warnings, adhere to minimum force guidelines, and refrain from using tear gas against lawful protesters.
The protests in Ferguson were quickly followed by protests in Hong Kong, where the yellow umbrellas people used to shield themselves from tear gas became a transnational symbol of defiant resistance. In January 2015, police in Nairobi red tear gas on schoolchildren who were protesting the destruction of their playground. Weeks later, twenty-two people died in a stampede at an Egyptian football stadium, set off when police red tear gas at a fenced-in crowd.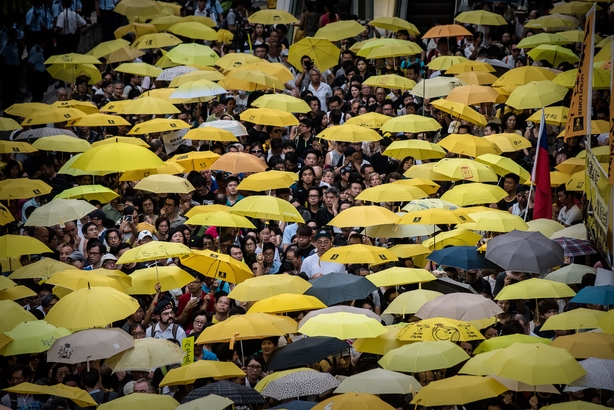 In India and Pakistan, tear gas is both manufactured and regularly deployed. Where it was once used by British security forces to quell colonial uprisings, it now suppresses protests for fair wages and working conditions. India also supplies much of the world with organic peppers that get synthesized into doses of oleoresin capsicum—pepper spray—that are strong enough to kill. In Thailand, Buddhist monks protest in robes and gas masks. Neighboring Indonesia often turns to tear gas to quell protests in its profoundly unequal cities: Whether Jakarta is faced with residents reluctant to leave their ood-prone homes, or Muslim citizens calling for an apology after a Christian leader allegedly insulted the Koran, tear gas is the capital city's go-to suppression system. Likewise, in recent years both South Korea and China have become players in the Southeast Asian riot-control market as well as making sales to African governments. China is also a leading export supplier, providing the base chemicals used to create tear gas compounds around the world.
The Occupied Territories of Palestine are well into their ninth decade of continual tear-gassing; its children breathe in tear gas regularly. Fired into schools, homes, mosques, hospitals, it not only affects the air but seeps into crops and food supplies. Where Israeli Defense Forces (IDF) patrols are frequent, like around the community center in Aida Refugee Camp, tear gas can come two to three times a month, for hours at a time.8 This constant use keeps both US and Israeli riot-control weapons manufacturers in good business.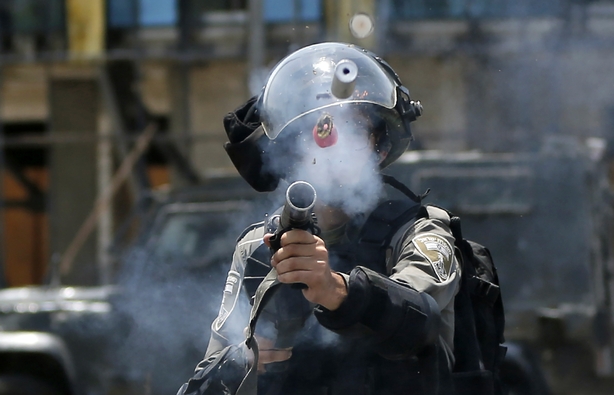 Less reported on is the growing use of tear gas in East Africa. Both Ugandan and Nigerian police use excessive amounts of tear gas to quell disputes over electoral processes, cuts to education, high food and gasoline prices, and other issues. In Kampala, reporter Will Monteith writes that the phrase tear gas is frequently heard in everyday conversation. Customers' online reviews of businesses sometimes read, "Safe place, no tear gas or rioting." Jokes about the government's use of tear gas populate Twitter feeds and a police rugby team adopted the name "Jinja Police Teargas Rangers." Inspired by his government's obsession with tear gas, in 2016 twenty- three-year-old Ugandan university student Mugarura Samuel made his own concoction. After clashes between student pro- testers and riot police once again left tear gas canisters strewn around his campus, Mugarura picked one up, took it home, and studied its composition.
How much damage has tear gas caused? How many lives has it harmed? Nobody knows, because nobody counts
With this book I aim to put tear gas on trial: to show what happens to our notions of safety, security, and harm when medical knowledge is covered up in the pursuit of ulterior motives. I interrogate the role of tear gas in police-public relations. Most of all, I set out to expose those who pro t from the violent control of other people. Whether in a Nairobi schoolyard or a Bahraini car, an English university sit-in or a US prison cell, the streets of Hong Kong or the squares of Athens, the use of tear gas should raise more than just a liberal eyebrow or a radical fist in the air.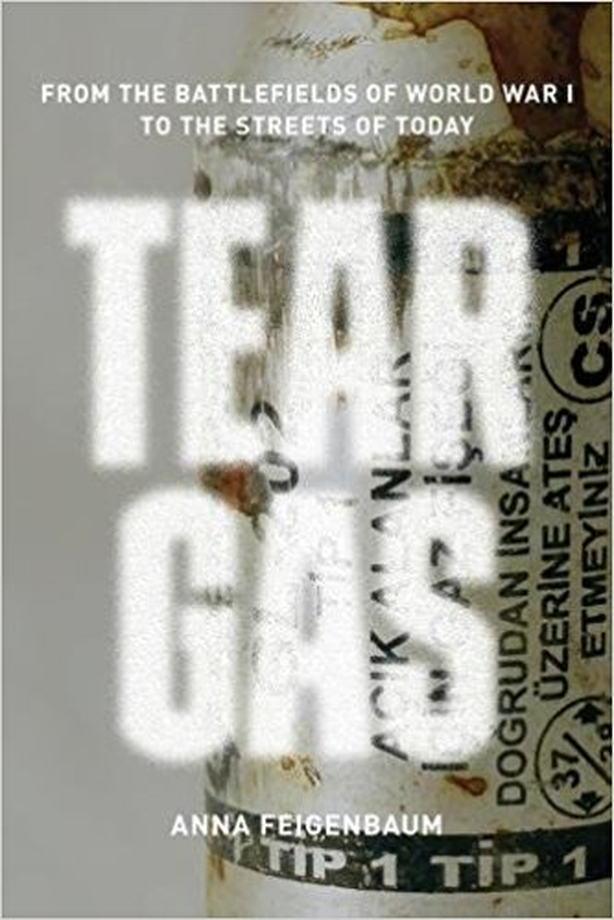 While the military, governments, and police continue to contend that tear gas is safe, studies in major medical journals—including the publications of the World Medical Association, the British Medical Association, the American Medical Association, and the Turkish Medical Association as well as the Bulletin of the Atomic Scientists—all conclude that more research must be conducted into its health effects. Even NATO admits that there is limited medical understanding of its effects in real-life deployments. Very little data exists on the long-term health effects of tear gas or its effects on fetuses, as the Chilean doctors noted.Its use is particularly troubling for populations that face attacks over a sustained period of time, as is the case in Palestine and in refugee camps, detention centers, and prisons around the world.
When thinking about riot control weapons, we so rarely ask: Who turns a profit? These pages shine the spotlight on some of the salespeople, scientists, military buyers, arms dealers, patent attorneys, police suppliers, and defense magazine editors currently enlisted in the worldwide effort to sustain the fiction that tear gas is safe and humane.
This is an extract from "Tear Gas: From the Battlefields of World War I to the Streets of Today" by Dr Anna Feigenbaum, published by Verso Books