The old marketplace at Smithfield in Dublin has been transformed into a new civic plaza.
The new civic plaza designed by McGarry Ní Éanaigh Architects in Dublin's north inner city area of Smithfield. The new space is opened by the Lord Mayor of Dublin Mary Freehill who lights 12 giant gas braziers. The new plaza has been developed thanks to the Historic Area Rejuvenation Project (HARP).
Smithfield is one of the capital's oldest trading and residential communities. In recent years Smithfield has been best known for its monthly horse fair. The are which had suffered years of decline and neglect has been revived. The £3.5 million investment in the two and half acre pedestrianised square is the first part of a plan to transform the area beside the famous food and fish markets.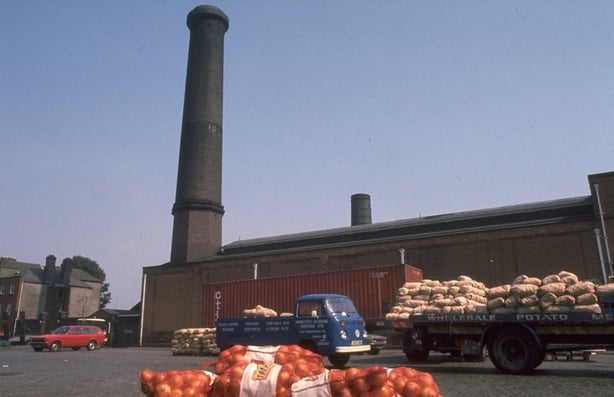 The rejuvenated area will become a major outdoor venue and will be used for freedom of the city conferring ceremonies.
HARP project manager Jim Keogan says the development is
Symbolic of the confidence the Corporation have in coming to an area that was formally run down and derelict to bring about hopefully, a new future both for the city and also for the communities that live here.
Local residents are impressed with the transformation,
It's gorgeous.
The second half of the square will be redeveloped but it is hoped the horse fair will continue. Perhaps mindful of criticism of Temple Bar, the Smithfield developers are ensuring a balance between daytime and nigh time activities in the area.
But the emphasis remains that this should be a unique blend of old Dublin and a vibrant new capital.
An RTÉ News report broadcast on 21 December 1999. The reporter is Tony Connelly.