Illustrations for television, print, advertising and American tourists.
An interview with artist and cartoonist Terry Willers (1935-2011) at his home in county Wicklow where he speaks about his series of leprechaun cartoons.
Terry Willers gained public recognition for his illustrations on RTÉ Television programmes 'Hall's Pictorial Weekly' and 'The Live Mike'. He also provided illustrations for the Sunday Independent, Evening Herald and Irish Farmers Journal.
This notoriety provided many further opportunities to use his talents in the world of advertising. Now with the economy in recession, there is a lack of work for illustrators and Willers has turned his hand to a series of leprechaun illustrations which have proved particularly popular with American tourists.
Peter McNiff describes the world of Terry Willers as a "weird and wonderful affair". McNiff also comments that Willers is doing "for leprechauns what Newcastle did for coal".
An RTÉ News report broadcast on 19 February 1985.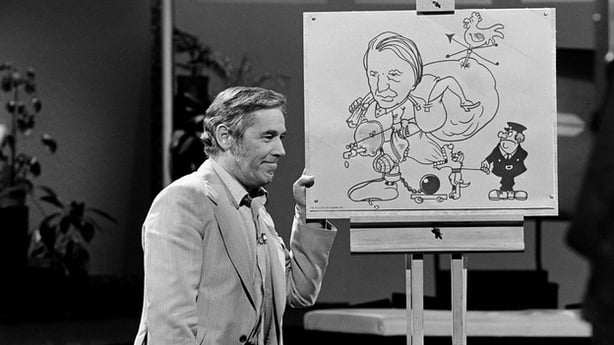 Terry Willers on 'The Live Mike' in January 1981