A selection of titles recorded on videotape have been digitized with the assistance of the BAI Archiving Funding Scheme.
Over the years RTÉ has used many different media carriers to produce and record content for broadcast on radio and television.
In the 1980s Betacam a new professional analogue format emerged in the production of television programmes. This half inch magnetic tape came in cartridges of two sizes and following the use of open reel videotape and film.
The videocassette carrier, now obsolete was known as Betacam and a later edition Betacam-SP (Superior Performance) became the predominant format in use by RTÉ for production and live recording between 1985 and 2001.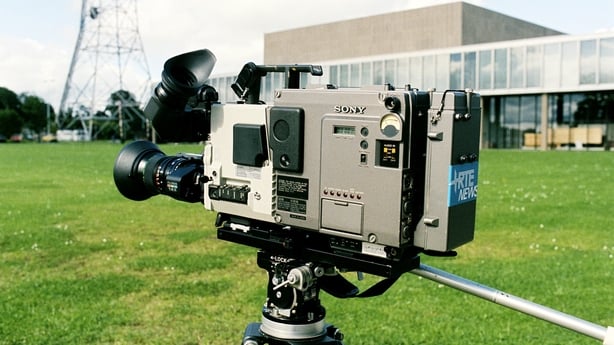 The cameras used to record Betacam were lighter and smaller than older television cameras allowing it to be deployed in news production. The new format enabled more electronic field production and aided live recording with the benefit of an integrated professional video camera recorder and video editing.
RTÉ Archives was awarded financial support under the BAI Archiving Funding Scheme to digitise a selection of titles from the earliest of these recordings due to the vulnerability and age of magnetic videotape.
Content from these digitized recordings are made available by RTÉ Archives as part of its daily curated output spanning a range of subjects and genres including sport, drama, entertainment young people's, documentary and Irish language. Among the titles that have been transferred from videotape to digital files are programmes from Echo Island , Family Matters , Jo-Maxi , Kenny Live , Thank Friday It's Bibi and The Late Late Show
The digitized content is preserved and catalogued at RTÉ Archives and is available for research and use in new productions.