Minister opens new facility at Shannon Airport to handle cargo.
Minister for Transport and Power, Erskine Childers, cut the ribbon to open the new cargo terminal at Shannon Airport. The minister also drove a forklift loaded with cargo into the new Aer Lingus freight terminal building.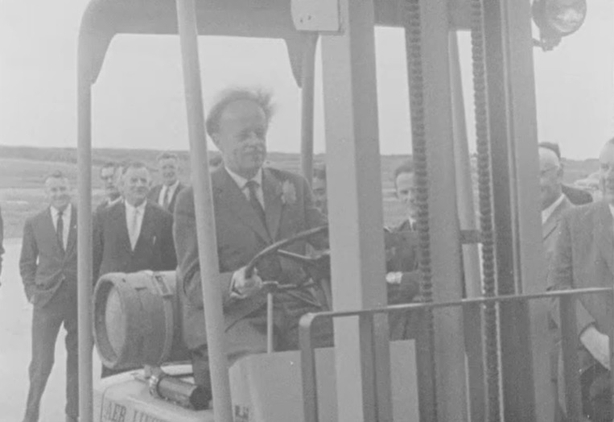 The freight terminal at Shannon Airport is another addition to the development of the region as an industrial centre.
The new terminal building is 130 feet long, 95 feet wide and 28 feet in height. It includes a cargo hall of more than 5,000 square feet with bonded stores and maintenance workshops.
Attendance at the ceremony included the Minister for Education Dr Patrick Hillery, the Ceann Comhairle Mr Patrick Hogan, Mr Patrick Clohessy TD, Mr Patrick O'Donnell TD, and the Mayor of Limerick Mrs Frances Condell.
An RTÉ News report broadcast on 30 July 1962. The footage shown here is mute.