The customs and superstitions that accompanied birth, marriage and death in Ireland past.
Katherine Mullally a noted concertina player from Milltown in County Clare describes how faith and beliefs played a role in preparing for the birth of a baby. The child would be baptised as soon as possible after its arrival into the world,
They'd be off the next morning as early as they could go.
Matchmaking was still commonplace when Katherine Mullally was growing up. If a man married into his wife's farm he would move into the house with her family, and vice versa. Custom dictated however that a woman would not visit her parents for the first month of married life,
That was called the Hauling Home, in those days.
While clocks were stopped immediately after a person's passing in other parts of the country, this is not something Katherine Mullally remembers being done in her native part of County Clare.
Wakes were taken very seriously in every part of Ireland. Time was allocated to praying the Rosary for the soul of the recently departed and the caoineadh (keening). Snuff tobacco was offered to mourners, as were porter and whiskey, but to the men only, with soft drinks being served to women. All of the wake and funeral expenses were paid for by the family of the deceased which was a considerable drain on their resources.
Wakes in those days broke people a lot.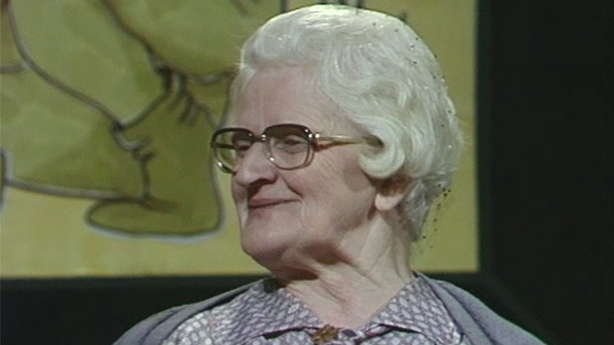 Katherine Mullally (1982)
'Of Night and Light and the Half Light : Superstition' was broadcast on 1 August 1982. The presenter is Donncha Ó Dúlaing.
First broadcast on 21 July 1982 'Of Night and Light and the Half Light' was a series consisting of six programmes recorded in the RTÉ Television studios.
Presenter Donncha Ó Dúlaing interviewed storytellers, local historians, keepers of folklore and people with knowledge of cures and folk healing with the aim of exploring
"The world of folklore, of fairies, and of the other life through the conversations of people who know about these things" (RTÉ Guide 23 July 1982). The producer was Niall Matthews.