Closed for fifteen years the Ierne Ballroom is set to open again.
The Ierne Ballroom on Parnell Square in Dublin was an icon of the showband era of the 1960s and 70s. It has been refurbished, but is still a step back in time.
Once upon a time, the Ierne Ballroom was the centre of the Irish showband scene.
During the 1960s, the Ierne Ballroom was a place where screaming fans pulled the likes of Dickie Rock and Joe Dolan off the stage. During the 1980s, disco took over and the Ierne Ballroom shut its doors in 1992.
Now, after a major facelift, the ballroom is reopening again under promoter James Cafferty. He describes how the venue had fallen into a state of disrepair and everything had to be replaced. He is confident that the future of the ballroom, which is now fully licensed to sell alcohol, will go well.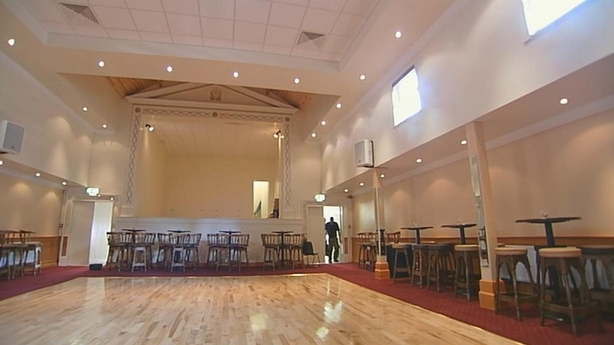 Entertainer Paddy Cole recalls past days at the Ierne where the boys were on one side of the ballroom with girls on the other, and the bar sold minerals only.
Once a place where love stories began, the newly name 'Cafferty's at The Ierne' is hoping to maintain its reputation as a ballroom of romance but with a modern twist.
An RTÉ News report broadcast on 12 June 2007. The reporter is Anne Marie Smyth.