The course at the Dublin Fire Brigade Training Centre provides a range of practical firefighting experiences.
At the Dublin Fire Brigade Training Centre on the Malahide Road in Marino, Dublin trainees go through fire drills in preparation to tackle real-life disaster situations. Presenter Siobhán Cleary joins them in the training exercises.
Some of the things that go to make a modern fireman.
A simulated sewer exercise has the objective of teaching how to find people in dark places and tight spots. The is to find any casualties and bring them out safely. Crew members own safety is first and foremost. The exercise is part of a compulsory breathing apparatus course undertaken by all members of the Dublin Fire Brigade.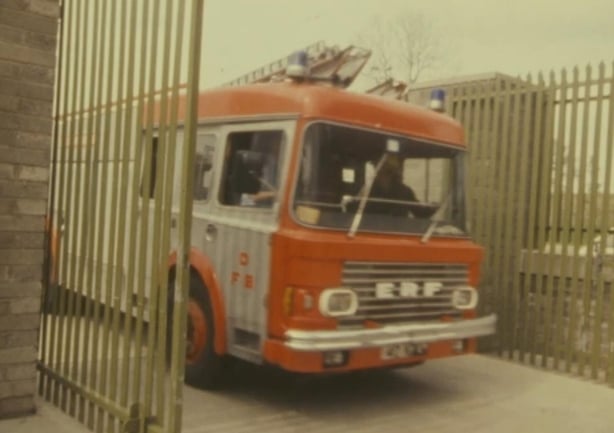 New recruits train for approximately 14 weeks including a First Aid Course.
It takes in all aspects of firemanship. It would take in chemistry, leathers, ropes, running out hose, water, even a bit of foot drill marching and things like that.
Now 125 years old, Eamonn Fitzpatrick, provides a background to the history of the Dublin Fire Brigade. Before the establishment of a fire brigade service Dublin, there were insurance brigades where people paid an insurance premium to a company who would provide a service in the event of a fire.
If you had no insurance, it was tough.
Dublin Corporation identified this as a problem in that many people did not have insurance. As a result, the Dublin Fire Brigade was established. Captain James Robert Ingram, formerly with the New York Fire Service, headed up the new brigade. He began by setting up the first fire station just off South William Street in Dublin.
At the training centre a collection of antique equipment is being made. Most of this comes from relatives of deceased members of the brigade and varies from old breathing apparatus to modern day equipment, uniforms and medals. It is hoped that it will eventually be established as a museum.
Another exercise sees the trainees extinguish the flames of a burning car.
The job has become more dangerous over the years with fire fighters facing the threat of many chemicals as they carry out their work. Modern day use of polystyrene and polyurethane present further hazards as they are highly flammable and produce dense, black, poisonous smoke. Breathing apparatus have to be used to protect the firefighters.
The next exercise is a simulated guesthouse fire. The building is filled with smoke, hence the need for the breathing apparatus which weighs forty pounds.
We can come across these situations any day.
Some of the Dublin Fire Brigade trainees describe the real-life situations they find themselves in where people panic to get out. They often lose their way due to the darkness and heavy smoke. Firefighters are trained to work on a braille system where they feel their way out of these situations.
Dublin Fire Brigade has an excellent track record when it comes to safety. There have been no deaths since 1936 when three firemen were killed in an explosion on Pearse Street.
In the 125-year history of the Dublin Fire Brigade, there have been no women firefighters. However, it is hoped that this will change with future recruitment.
This episode of 'Evening Extra' was broadcast on 12 June 1987. The reporter is Siobhán Cleary.