Incendiary devices discovered in Dublin as Dunnes Stores on North Earl Street is gutted following a fire.
The interior of the Dunnes Stores building was completely destroyed by the fire and damages are estimated to be in the region of £60,000. The tailor shop next door also suffered some damage but avoided complete destruction as a result of the efforts of Dublin Fire Brigade. Gardaí are trying to establish if the fire at Dunnes Stores was caused by an incendiary device.
A number of incendiary devices have been found in several large stores during the night.
Two incendiary devices were discovered in Dunne Stores on Henry Street and a third ignited this afternoon but was quickly extinguished. A further six incendiary devices were found at the Woolworth store on Henry Street.
Eric Mullane, manager at the Woolworth store says that all the incendiary devices were found amongst highly inflammable merchandise such as paint, fire lighters, toilet rolls, matts, lino and stationery. A device next to the fire lighters went on fire as it was being removed this morning. The first device was discovered by Woolworth's security staff and following a thorough search of the premises others were found by Gardaí. Eric Mullane is from Derry is shocked that this sort of activity is now happening in Dublin.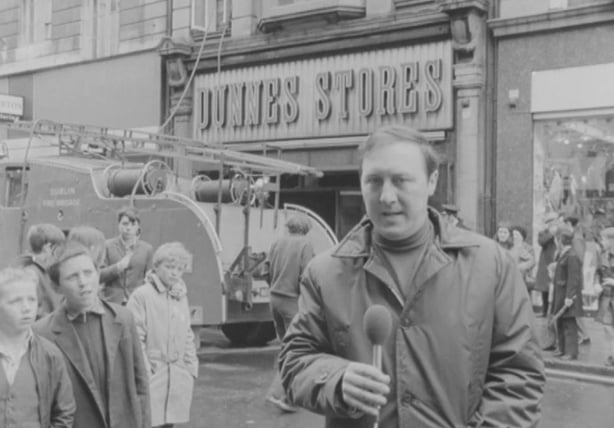 After the discovery of the incendiary devices, the Crime Prevention Unit of An Gardaí made a call to all business owners to check their premises. Garda Superintendent Tim Farrell advises business owners to check their premises as often as possible. The incendiary devices are activated on a delay so it may take some time before they go off.
There is a possibility that some incendiary devices could have been left in the premises over the weekend.
Superintendent Tim Farrell says that the devices are generally in a small package about the size of a cigarette packet.
An RTÉ News report broadcast on 21 May 1972. The reporter is Tom McCaughren.