Teenager Tom Murphy presents 'Tonight Tomorrow' a take on the RTÉ current affairs programme 'Today Tonight'.
Reflecting on the issues of the day from high unemployment, spiralling prices, neutrality and the prospect of World War III, the focus of this episode is on an issue which is becoming a major talking point in the country.
Should people be allowed to say the word 'bum' on RTÉ?
To discuss the issue, Maire Bean Ní Mhurchu, (Twink) and Father Senile O'Reilly (Jonathan Ryan), from the organisation ABC (Anti Bum Crusade) are in studio. They believe that the morals of the country are under attack.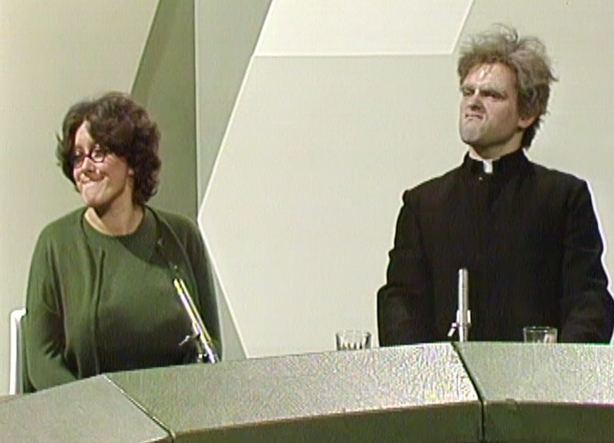 This sketch was in an episode of the programme 'Twink' broadcast on 11 April 1982.
'Twink' was a seven-part series which featured both music and comedy sketches. It was first broadcast on 28 March 1982.
Tom Murphy (1968-2007) went on to have a successful career on stage and screen. One of his most notable roles was as Paul in the film 'Adam and Paul'.