Floats from local and national industries take part in a parade in the seaside town of Dún Laoghaire
Now in its fourteenth year, the Dún Laoghaire parade attracted hundreds of visitors. The parade taking place the day after St Patrick's Day featured 39 decorated floats and 15 vans.
Members of the local FCA and Civil Defence, children from Colmcille and Dunne Schools of Irish Dancing, the Borough Fife and Drum Band, St John's Pipe Band and the band of the 69th Troop of the Catholic Boy Scouts of Ireland (CBSI) also took part.
The parade route took it through Upper and Lower George's Street, along the seafront to St Michael's Wharf. The chief marshal of was Mr T Ó hAonghusa.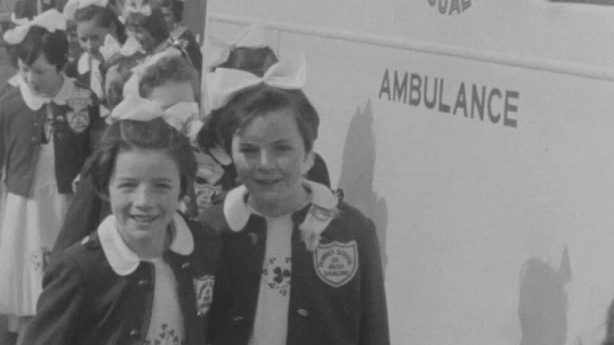 The reviewing stand included Mr L Booth TD, Mr L Cosgrove TD, Mr HP Dockrell TD, Senator T Ó Maoláin, Dr J De Courcy-Ireland and Mr P Ó Cathain.
An RTÉ News report broadcast on 18 March 1962. The footage shown here is mute.