A visit to the Jacob's factory to see how Mikado biscuits are made.
Aonghus McAnally follows the various stages of making Mikado biscuits as they go through the baking process. The production line at the Jacob's Biscuits has machines for mixing and baking before the biscuits are packed and distributed to wholesalers and retailers.
The process begins with the mixing of the ingredients which are churned in a large industrial mixing machine.
There are different bins of different mixes for each kind of biscuit.
The mix is placed in another machine where the biscuits begin to take shape. The biscuits are baked in a 240 feet long travelling band oven. It takes about six minutes for the biscuits to get from one end of the oven to the other. The factory has a total of seven of these moving baking machines. The biscuits emerge from the oven beautifully baked. The biscuits are then cooled before they are topped with jam, marshmallow and sprinkled with coconut.
They look absolutely gorgeous.
At this stage, thousands of baked biscuits make their way along the conveyor belt to the packing area where they are hand packed into plastic trays, wrapped and packed.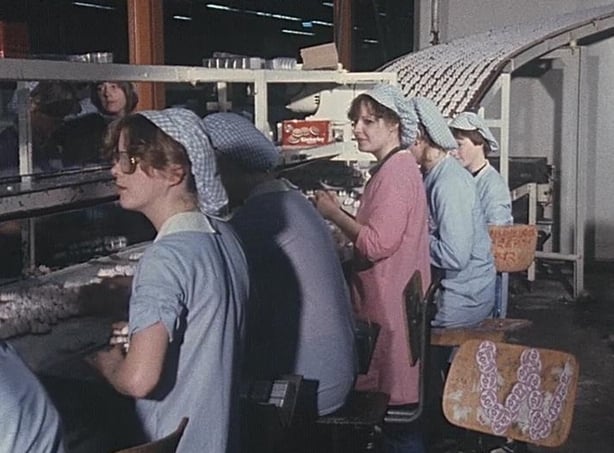 'Anything Goes' broadcast on 19 December 1981. The presenter is Aonghus McAnally.