Dan The Street Singer a one man travelling band and entertainer from Louisburgh County Mayo.
Gay recalls seeing Dan in Clarinbridge, County Galway during the Oyster Festival walking the streets, singing his songs and collecting money from passersby.
He is well and truly a wandering minstrel.
Dan whose real name is Basil Morahan arrives pulling his cart and performs a medley of songs as The Late Late Show audience clap along.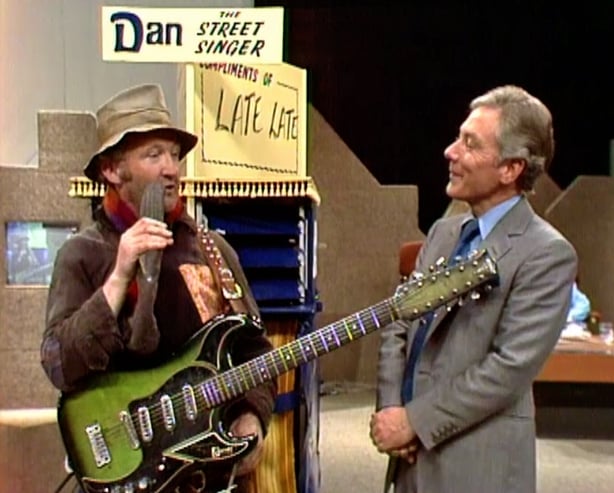 Dan The Street Singer on The Late Late Show with Gay Byrne (1981)
Dan The Street Singer, has been travelling the streets for 10 years keeping old songs alive. Wherever he goes he gets a great reception from people.
Dan reveals the contents of his custom made cart which includes two 12 volt batteries, a 120 watt amplifier, and speakers. Dan says he manages to make a living from performing and has a basket where people can put money as a display of their support.
This episode of The Late Late Show was broadcast on 17 October 1981. The presenter is Gay Byrne.