Easter Rising leader Seán Heuston honoured with plaque at Heuston Train Station in Dublin.
The plaque hangs in the booking office at Heuston Station where Seán Heuston had worked as a clerical officer before taking part in the 1916 Rising.
Seán Heuston (1891-1916) was executed by firing squad at Kilmainham Gaol on 8 May 1916 for his part in the Easter Rising.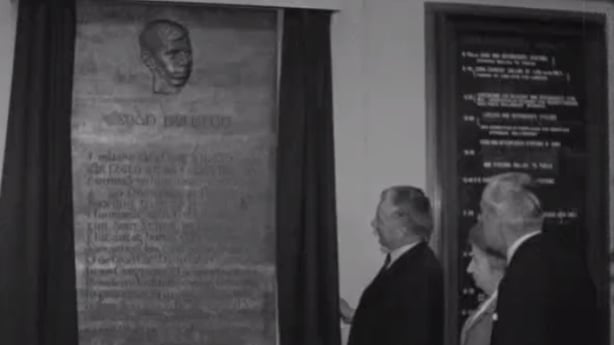 Seán Heuston plaque unveiled at Heuston Station, Dublin (1966)
The unveiling of the plaque was carried out by Minister for Defence Mr Michael Hilliard in the presence of Seán Heuston's sister Theresa.
General Manager of CIÉ, Mr Frank Lemass, was also at the ceremony and said the company was particularly pleased to have the memorial to Sean Heuston in view of the fact that he had worked in the building.
James Brennan, who fought with Seán Heuston in the Mendicity Institute during Easter Week 1916 was also in attendance at the unveiling.
An RTÉ News report broadcast on 9 October 1966. The footage shown here is mute.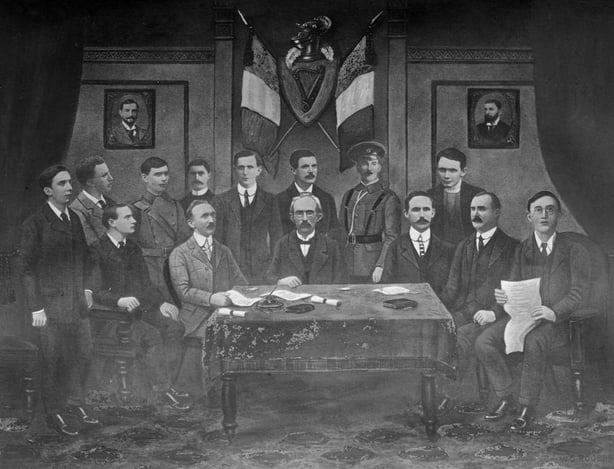 RTÉ Cashman Collection
The Last Supper painting of the men executed following Easter Rising 1916. The painting is signed by WG Rogers.
(From left seated) Patrick (Padraig) Pearse, John McBride, Thomas Clarke, Eamonn Ceannt, James Connolly and Joseph Plunkett. (From left standing) William Pearse, Thomas MacDonagh, Seán Heuston, Michael Mallin, Seán MacDermott, Michael O'Hanrahan, Edward Daly and Con Colbert. (Inset background from left) Roger Casement and Thomas Kent.