A return to school in 19th century rural Ireland.
Bunratty Folk Park is a recreation of a 19th century Irish village complete with its own shops, thatched cottages and pubs with every effort made to keep it as authentic as possible.
The Bunratty Folk Park is one of the major tourist attractions in the West of Ireland.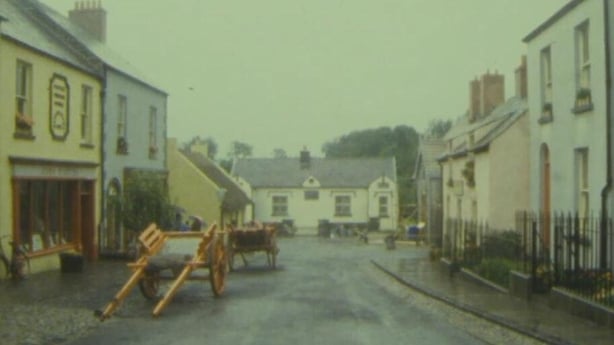 Bunratty Folk Village
The latest addition to the Bunratty Folk village is a national school from a time when the approach to education was "to spare the rod is to spoil to the child". The schoolhouse is now one of the most popular exhibits with visitors to the folk park. There is even a reconstruction of the return to school for students on their first day back after the summer holidays. The teacher gripping a cane calls the roll.
A re-enactment of how things might have been in a rural national school in County Clare at the turn of the century.
Tom Sheedy, Manager at Bunratty Folk Park, explains that the biggest challenge they had in adding a school to the village was sourcing furniture as many of the items that would have been found in schools at that time have now long disappeared. Many schools from throughout the region contributed to the furnishings on display in the old schoolroom.
An RTÉ News report broadcast on 12 September 1986. The reporter is Michael Walsh.