Dublin Corporation announces plans for the redevelopment of the St Michael's Estate in Inchicore, Dublin.
St Michael's Estate has had a troubled past but is now one of 12 major regeneration projects in the Dublin area.
Residents of St Michael's Estate describe problems in the area such as drugs, crime and a lack of facilities for young people.
Mary Taylor, Project Manager at Dublin Corporation, says that the plan involves the demolition of all 346 flats to be replaced with a mix of houses, apartments and duplexes. The project also involves a major investment in community facilities including investment in childcare, the redevelopment of the health centre and the construction of a sports hall along with an all weather pitch.
Dublin Corporation has also acquired ownership of Goldenbridge Convent which will be refurbished for use as a leisure centre, training facility and adult literacy service. The church situated next to the convent is to be converted into a civic theatre.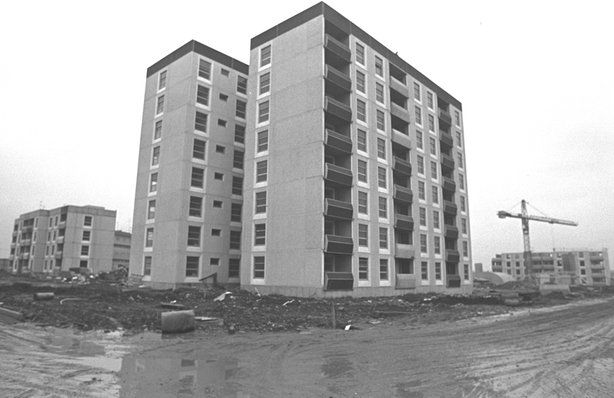 St Michael's Estate Under Construction (1970)
The master plan for the project was officially launched today at Dublin Corporation's civic offices. Speaking at the launch, City Manager John Fitzgerald says that when it is complete, it will be a fantastic place to live with architectural quality as good as you will find anywhere.
The sixty million pound master plan will literally change the landscape of St Michael's Estate forever and hopefully make it a better place to live.
An RTÉ News report broadcast on 12 June 2001. The reporter is Teresa Mannion.