The Boomtown Rats take to the stage for Self-Aid at the RDS in Dublin.
RTÉ broadcaster Larry Gogan introduces The Boomtown Rats to the 'Self-Aid' stage.
I am truly proud to introduce our next act to you.
Larry Gogan recalls having the pleasure of playing the very first record on Radio 2 which launched in 1979. He chose the song 'Like Clockwork' by The Boomtown Rats as for him it epitomises everything that is great about Irish rock.
They remain the only Irish band ever to have a number one in Britain.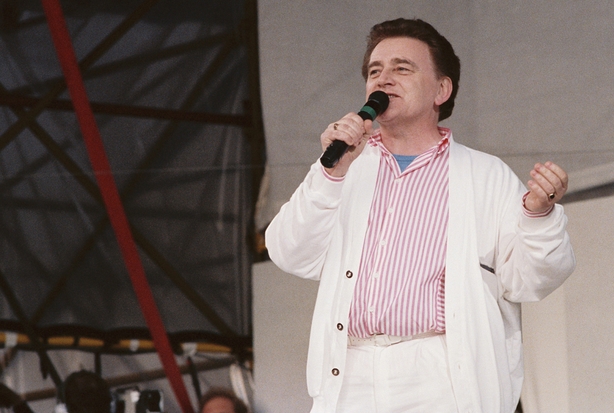 Larry Gogan on stage at Self-Aid (1986)
The band perform their song 'Someone's Looking at You' which featured on their album 'The Fine Art of Surfacing' (1979).
The Self-Aid concert took place at the RDS, Dublin to raise funds for the unemployed in Ireland. The event raised millions of pounds towards The Self-Aid Trust as well as thousands of jobs pledges.
All artists on the day performed for free and the lineup included Auto Da Fé, Bagatelle, Big Self, Blue in Heaven, The Boomtown Rats, Paul Brady, Chris de Burgh, Cactus World News, The Chieftains, Clannad, De Danann, Elvis Costello, Rory Gallagher, The Fountainhead, In Tua Nua, Christy Moore, Van Morrison, Moving Hearts, The Pogues, Chris Rea, Scullion, Brush Shiels, Stockton's Wing, Thin Lizzy, Those Nervous Animals and U2.
'Self Aid' was held on 17 May 1986.