The search is on for a young Irish singer to become a Mini-Popstar.
K-Tel Records are on the search for an Irish child to make records as a Mini Popstar.
Want to be a mini pop star? Your chance may have arrived?
With worldwide sales worth three million pounds, K-Tel records are looking for an Irish mini-pop performer to be included on the next album due for release in December. Singers must be under 14 years of age.
Martin Wyatt, originator of Mini-Pops and Managing Director of Bright Music Company explains,
We're looking to find an Irish child who must be confident at singing and dancing.
Potential Mini-Popstars are to send in a cassette of them singing a song from the charts that they particularly like. The recording must demonstrate that they can sing and have a sense of rhythm. Martin Wyatt will be holding auditions in Ireland in the summer and the winning child will feature on the next album.
Paul Hardy is one of the current stars of Mini-Pops says it is great fun being part of a team that make an album. Success has helped him to get other work and he has performed in 'Mutiny' in London starring alongside David Essex. He advises anyone interested to listen carefully to records to pick up the rhythm and the tune. Paul Hardy spends his weekends and school holidays performing but most of his time is spent responding to fan mail.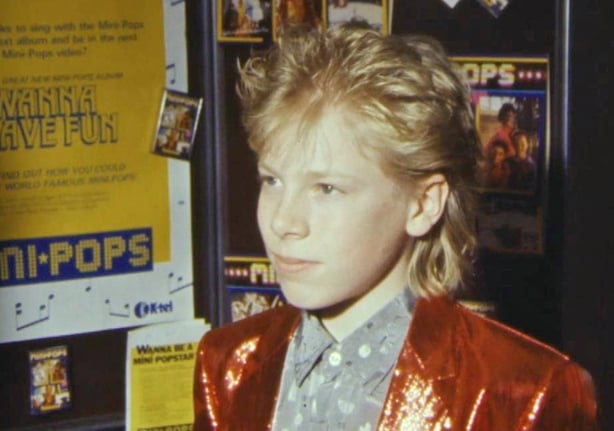 Paul Hardy, Mini-Popstar (1986)
An RTÉ News report broadcast on 25 April 1986. The reporter is Vere Wynne-Jones.