Taoiseach Charles Haughey announces measures to encourage the development of Temple Bar in Dublin.
The Temple Bar area has been a centre of artistic and cultural activity in Dublin for a number of years and incentives have now been put in place to develop this further.
Over the last 10 years or so, the Temple Bar area on the south side of the River Liffey has been acquiring a reputation as Dublin's left bank.
A new government finance bill provides a stimulus to help the area to keep its distinctive spirit.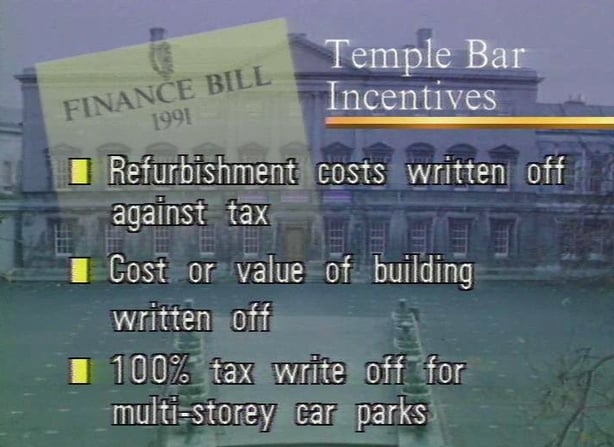 Temple Bar Incentives in Finance Bill (1991)
The bill allows for additional incentives alongside the standard incentives for urban renewal. The cost of refurbishment of buildings in the area can be written off against tax. It also provides for the cost of the building to be written off by the purchaser or its value to be written off if the developer already owns the building. There is also a 100% write off on multi-story car parks in the area.
Announcing the measures at a news conference, Taoiseach Charles Haughey outlined his vision for the area. Temple Bar will have attractive small venues, recording studios, places for the music industry, art galleries, studios, pubs, restaurants, discos and anything that contributes to a lively inner city.
An RTÉ News report broadcast on 18 April 1991. The reporter is Tom Kelly.