The Eurovision Song Contest is held in Ireland for the first time at The Gaiety Theatre in Dublin.
Ireland was the venue for the Eurovision Song Contest following a win for Dana the previous year in Amsterdam.
On 3 April 1971, the event took place at The Gaiety Theatre in Dublin and was presented by Bernadette Ní Ghallchoir.
The Eurovision Song Contest was broadcast around the globe to millions of viewers in 29 countries and was a major undertaking for the RTÉ production team. The show was also one of the first outside broadcasts RTÉ made in colour. Eighteen countries were represented in the contest, which was won by Monaco and Séverine with the song 'Un Banc, Un Arbre, Une Rue'.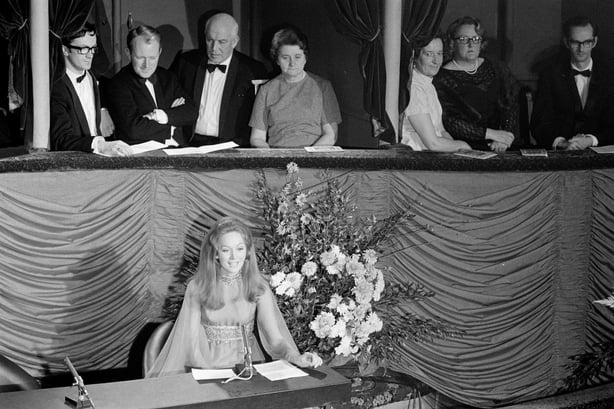 Eurovision Song Contest Presenter Bernadette Ní Ghallchóir. Photo by Roy Bedell
Ireland's entry to the contest was 'One Day Love' sung by Angela Farrell, which came in 11th place.
The opening film shows Grace O'Shaugnessy and Brian McGrath in a horse-drawn carriage travelling from Merrion Square to the Gaiety Theatre.
Adrian Cronin presents the winner Séverine representing Monaco with her award.
For Séverine is the beginning of a new career, and for RTÉ it's the conclusion of a year's hard work.
The 1971 Eurovision Song Contest was broadcast on Telefís Éireann on 3 April 1971.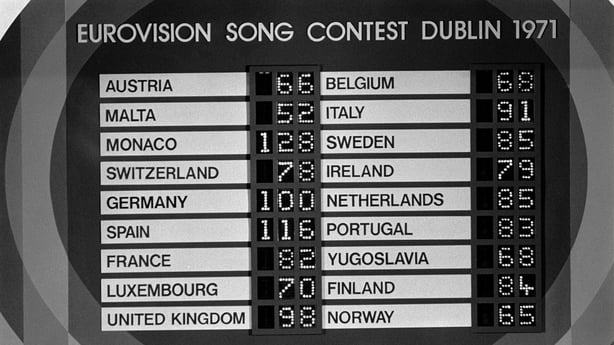 Eurovision Song Contest Scoreboard (1971)
Presented here are photographs of each of the contestants from the competing countries in order of placing in the final vote. (Note: Sweden and Netherland were both placed 6th and Belgium and Yugoslavia were both placed 14th.)
1. Monaco – Séverine 'Un banc, un arbre, une rue'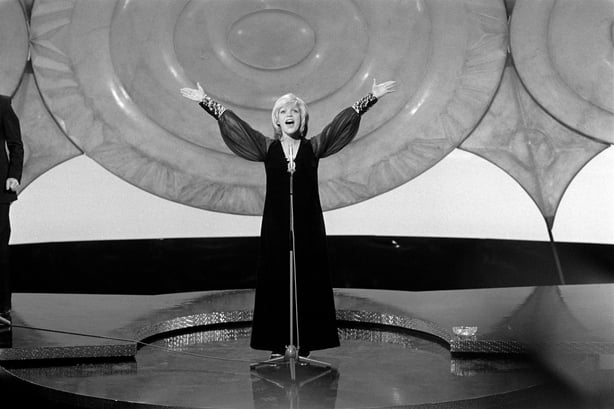 Séverine wins the Eurovision Song Contest (1971) Photo by Roy Bedell.

2. Spain – Karina 'En un mundo nuevo'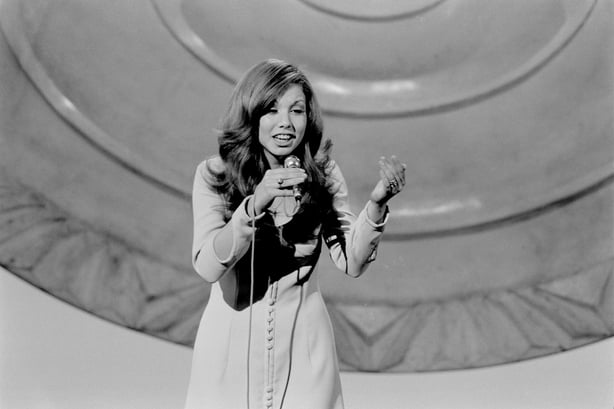 Spain's Karina in the Eurovision Song Contest (1971). Photo by Roy Bedell

3. Germany – Katja Ebstein 'Diese Welt'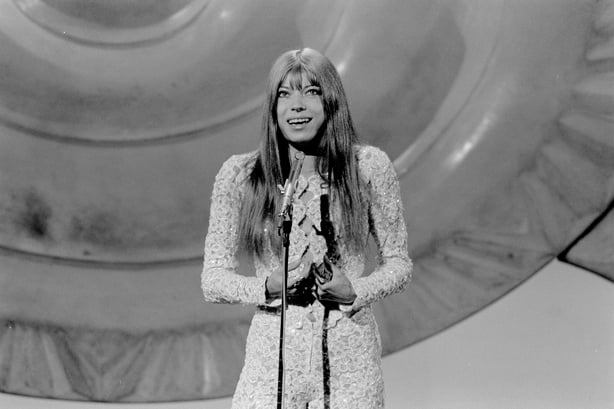 Germany's Katja Ebstein in the Eurovision Song Contest (1971). Photo by Roy Bedell
4. United Kingdom – Clodagh Rodgers 'Jack in the Box'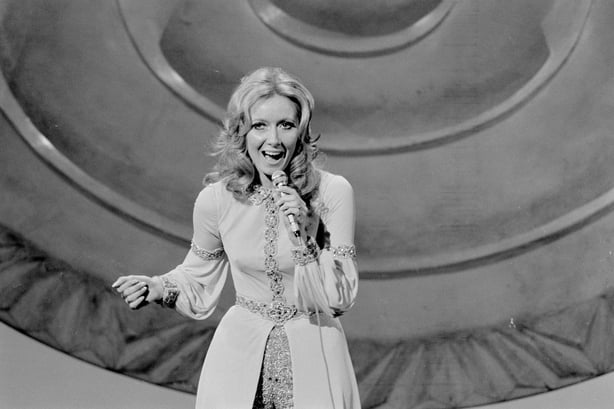 United Kingdom's Clodagh Rodgers in the Eurovision Song Contest (1971). Photo by Roy Bedell


5. Italy – Massimo Ranieri 'L'amore è un attimo'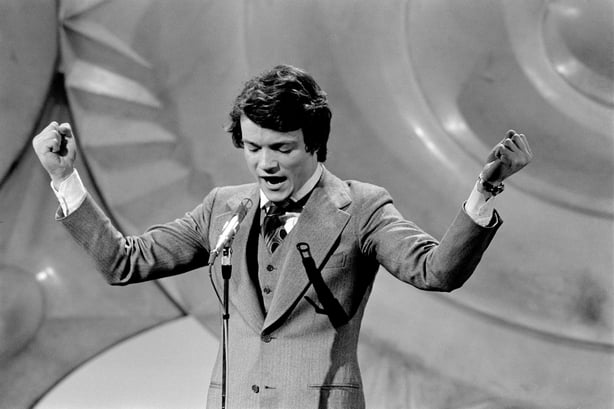 Massimo Ranieri in rehearsals for Eurovision (1971). Photo by Roy Bedell

6. Sweden – Family Four 'Vita vidder'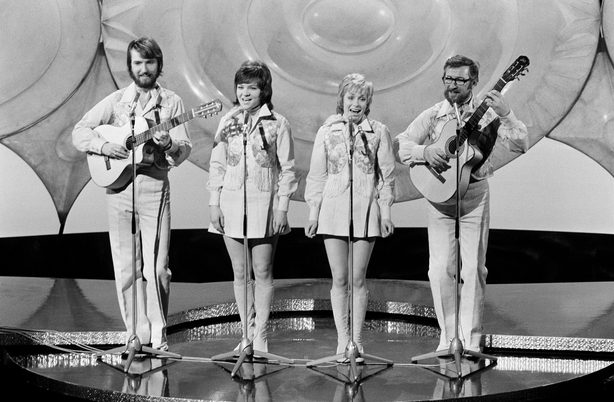 Sweden's representatives in the Eurovision Song Contest (1971). Photo by Roy Bedell

6. Netherlands – Saskia & Serge 'Tijd'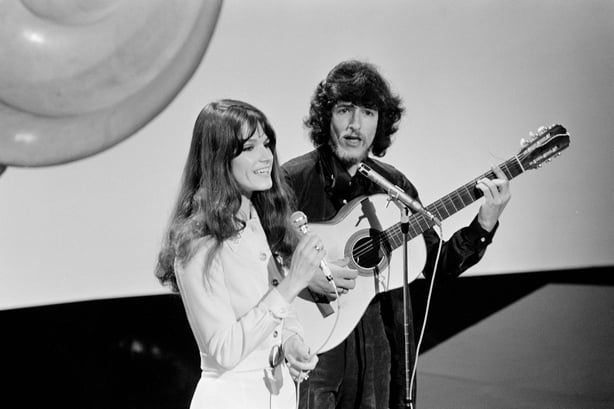 The Netherlands entrant, Saskia & Serge, in the Eurovision Song Contest (1971). Photo by Roy Bedell
8. Finland – Markku Aro & Koivistolaiset 'Tie uuteen päivään'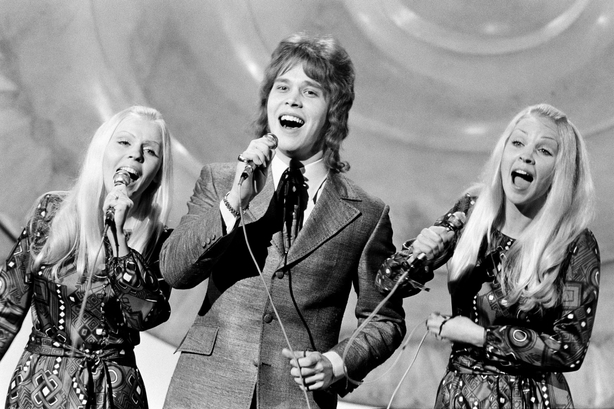 Markku Aro represents Finland in the Eurovision Song Contest (1971). Photo by Roy Bedell

9. Portugal – Tonicha 'Menina do alto da serra'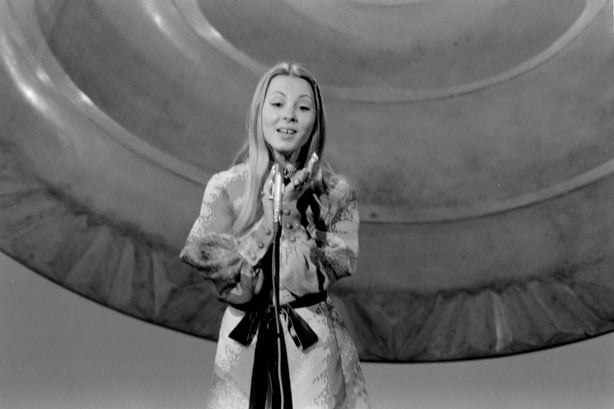 Tonicha represents Portugal in the Eurovision Song Contest (1971). Photo by Roy Bedell

10. France – Serge Lama 'Un jardin sur la terre'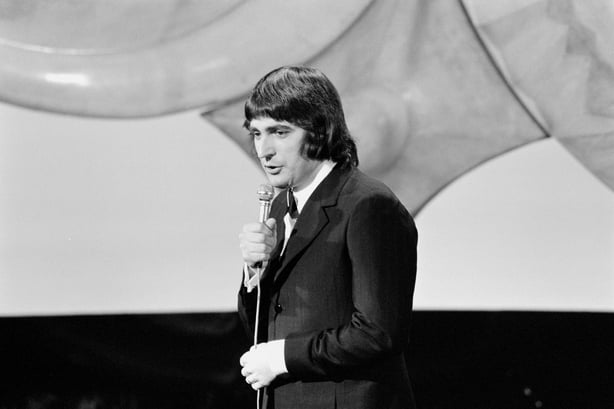 France's Serge Lama in the Eurovision Song Contest (1971). Photo by Roy Bedell

11. Ireland – Angela Farrell 'One Day Love'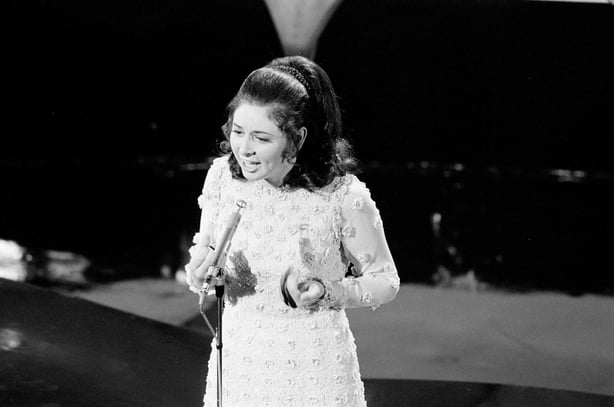 Angela Farrell represents Ireland in the Eurovision Song Contest (1971). Photo by Roy Bedell

12. Switzerland – Peter, Sue and Marc 'Les illusions de nos vingt ans'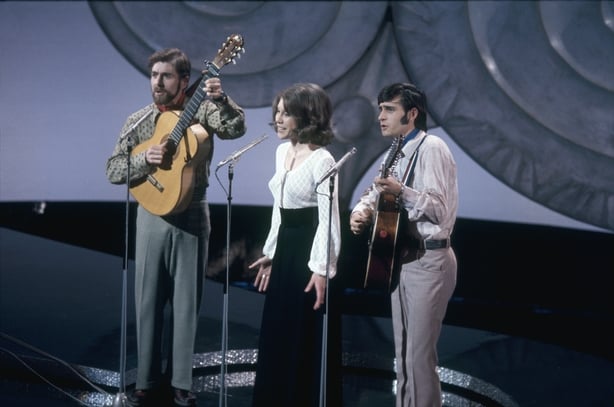 Peter, Sue and Marc represent Switzerland in the Eurovision Song Contest (1971). Photo: RTÉ Guide

13. Luxembourg – Monique Melsen 'Pomme, pomme, pomme'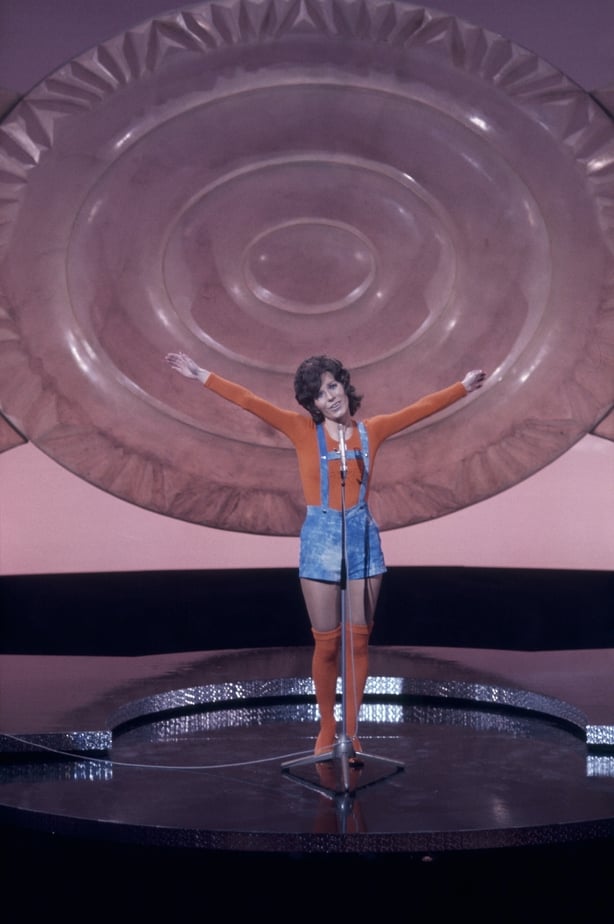 Monique Melsen represents Luxembourg in the Eurovision Song Contest (1971) Photo: RTÉ Guide

14. Belgium – Lily Castel & Jacques Raymond 'Goeiemorgen, morgen'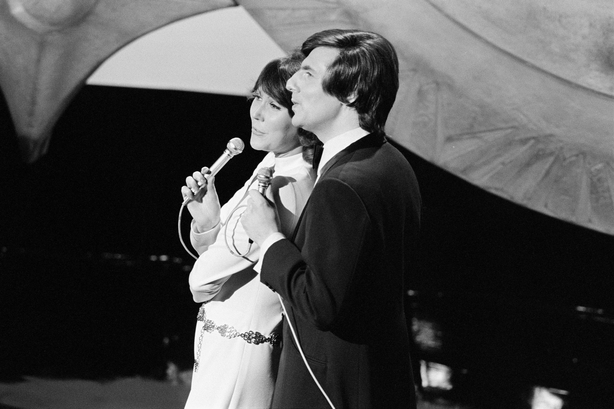 Belgium's representatives in the Eurovision Song Contest (1971)

14. Yugoslavia – Krunoslav Slabinac 'Tvoj djecak je tužan'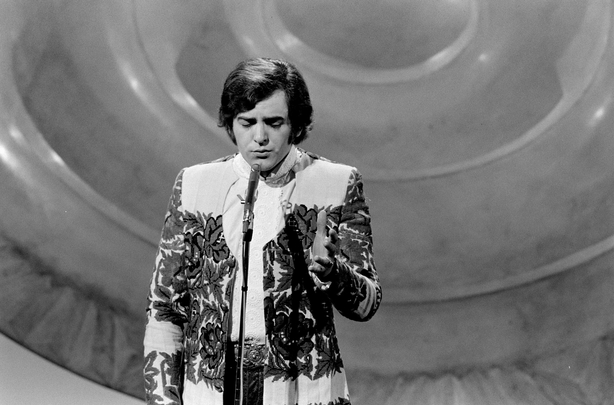 Krunoslav Slabinac of Yugoslavia in the Eurovision Song Contest (1971). Photo by Roy Bedell

16. Austria – Marianne Mendt 'Musik'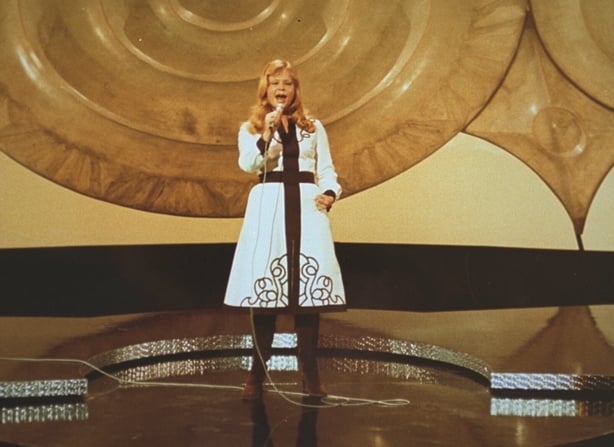 Marianne Mendt representing Austria in the Eurovision Song Contest. Photo: RTÉ Guide

17. Norway – Hanne Krogh 'Lykken er'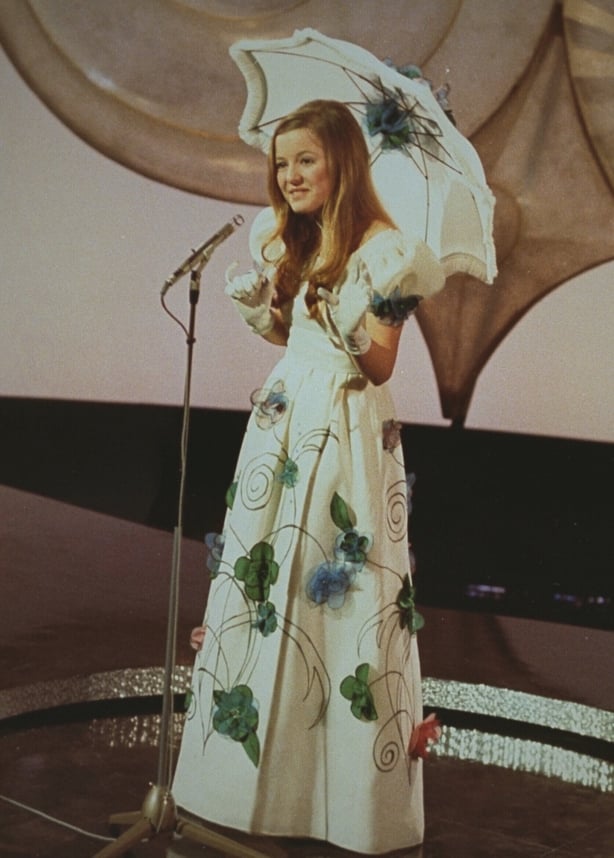 Hanne Krogh representing Norway in the Eurovision Song Contest (1971). Photo: RTÉ Guide

18. Malta – Joe Grech 'Marija l-Maltija'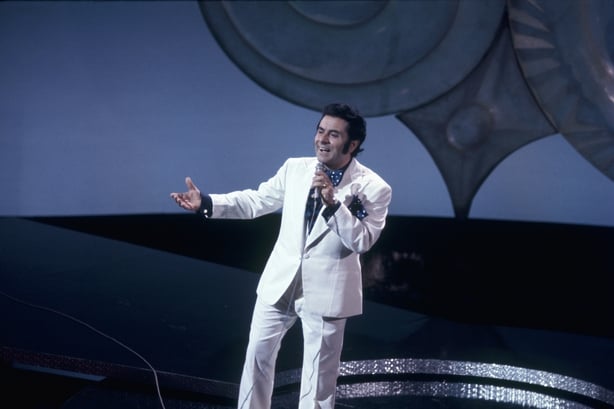 Joe Grech represents Malta in the Eurovision Song Contest (1971). Photo: RTÉ Guide
Explore more from the RTÉ Photographic Collection