The Irish in London commemorate the 50th anniversary of 1916 Easter Rising in Dublin.
Members of the Old IRA and Cumann na mBan, veterans of the Easter Rising, took part in a commemoration parade which marched down Whitehall and ended with a mass rally in Trafalgar Square.
Thousands gathered as the veterans took a salute in front of Nelson's Column.
The flag was carried by 74-year-old Jack Dempsey of Leap in County Cork, who played an active role in the rising.
The London Irish Girl Pipers Band also took part in the parade.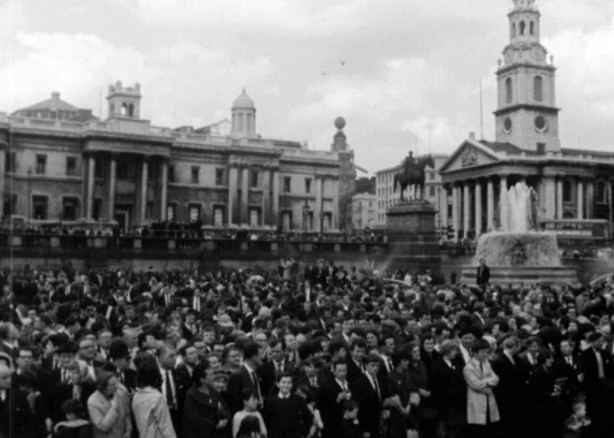 Trafalgar Square, London (1966)
The address was given from a platform in the square by Ruairí Brugha who spoke about the path to a united Ireland. The Proclamation was read by actor Eddie Golden. The event was presided over Michael McCormack, Chairman of the London 1916 Commemoration Committee.
This episode of 'Newsbeat' was broadcast on 10 April 1966.