St Patrick Day is marked with the annual parade in Dublin city centre and religious services across the country.
Large crowds lined Dublin's O'Connell Street for the Saint Patrick's Day parade led by the Lord Mayor Councillor Paddy Dunne in his newly restored coach, last seen in service 40 years ago. The traditional blessing of the shamrock took place and was presented to the city councillors.
Marching bands, floats, community groups, clubs, singers and dancers all took part passing the viewing stand where President Cearbhall Ó Dálaigh was seated. As well as the usual homegrown displays, there was also an international element to the parade including the Kikvorsch band from Holland and many Americans bringing their bi-centenary celebrations to Irish shores. 150 members of the Boston police force took part in the Dublin parade and were led down O'Connell Street by the Garda band. Other Americans included the Neshaminy Langhorne High School Band who put on an impressive display.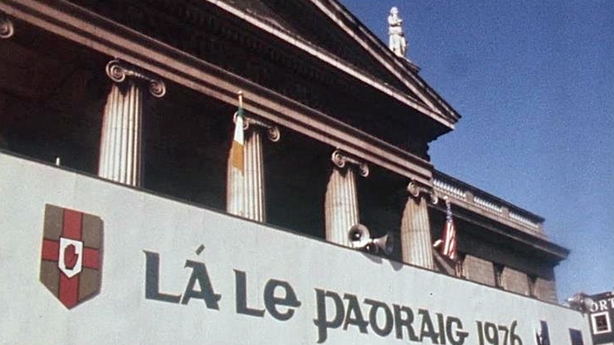 GPO, O'Connell Street, Dublin on St Patrick's Day (1976)
The parade is a great day for children who got to see all their favourite cartoon characters as well as a Punch and Judy Show.
Bord Fáilte says that there were record numbers of visitors with around 5,000 tourists in Dublin to see the festivities. It is estimated to be worth around three quarters of a million pounds to the tourism industry.
President Cearbhall Ó Dálaigh and his wife Máirín Uí Dhálaigh attended a special St Patrick's Day mass at the St Mary's Pro Cathedral attended by Archbishop Ryan and his auxiliary bishops.
At St Teresa's Church in Mount Merrion a shamrock blessing ceremony took place. A service at Saul, where St Patrick is believed to have established his first church, followed a walk from the Church of Ireland Cathedral in Downpatrick, County Down. At a special mass in Armagh, Cardinal Conway distributed shamrock to girl guides and boy scouts.
An RTÉ News report broadcast on 17 March 1976. The reporter is Conor McAnally.