The Late Late Show looks back at some reaction to the early years of Irish radio.
There was a time when the wireless was one of the most exciting things in our lives. Fifty years since the launch of an Irish national radio station Gay Byrne reviews some of the controversies that Radio Éireann encountered.
Radio Éireann, this year, is celebrating its fiftieth anniversary. 2RN went on the air in 1926.
Fifty years on, radio in Ireland has often been the subject of controversy. Looking back through newspaper headlines in the days before television, there are many examples of how people got just as worked up about the things they heard on the radio as they now do about what they watch on television.
When the All Ireland Football final was on in Croke Park in 1933, the sound of a scuffle was heard on radios throughout the country as a group took control of the microphones to make a plea for prisoners on hunger strike. Radio engineers soon took back control putting an end to the broadcast.
In 1934, a scandal erupted over the broadcasting of jazz music which it was claimed by some religious and state leaders that jazz had the objective of destroying morals and religion.
Down with jazz and out with paganism.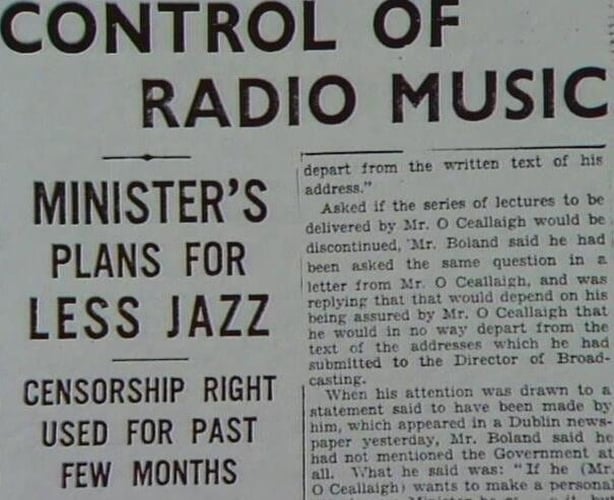 Jazz Controversy, Late Late Show celebrates 50 years of Radio Éireann
A Tipperary farmer got so mad over the President's Saint Patrick's Day broadcast in which he referred to the prosperity of the farmers. Reacting in anger, the farmer kicked his wireless set around the room.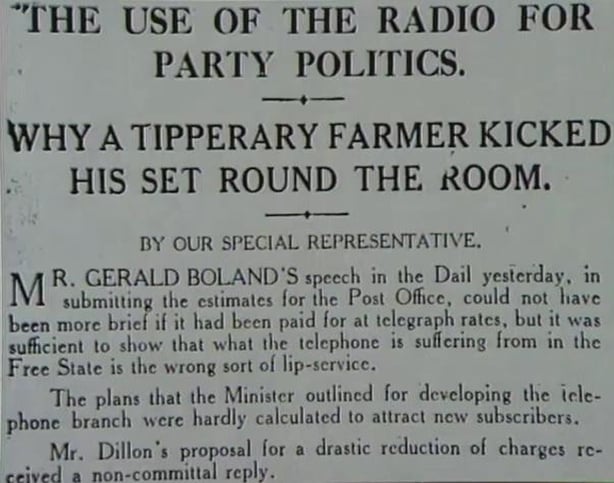 Farmer kicks wireless in response to President's address.
By 1936, the President's Saint Patrick's Day address was being transmitted around the world. However, someone tapped the line between Dublin and Athlone making President De Valera's broadcast almost inaudible. In July 1936, Maura Laverty interviewed a Clare born Mrs Kuntzen who had just met Adolf Hitler and was immensely impressed by him describing him as a very fine statesman.
In 1937, the first ever film was broadcast on Radio Éireann. Relayed from the Stephen's Green Cinema, was the Laurel and Hardy film 'The Bohemian Girl'.
As some of it is silent, the reaction of the audience to the antics of the stars should prove amusing listening to the listeners.
It did not end there. Radio Éireann also broadcast Duffy's Circus where listeners could hear the circus band, comedy and music, tap dancing and clowns.
While there were many controversies, Radio Éireann was taken very seriously. Testament to this was when the Republic of Ireland flag was flown over Broadcasting House in London, headquarters of the BBC on the occasion of a visit to the BBC by Dr John Kiernan Director of Broadcasting at Radio Éireann.
Despite this international acknowledgment, controversy continued to follow the radio station when it came to radio licence fees.
This episode of The Late Late Show was broadcast on 31 January 1976. The presenter is Gay Byrne.