Rain creates treacherous conditions at a Traveller camp on the banks of the Dodder in Clonskeagh Dublin.
Over the past three days, heavy rain caused flooding along the River Dodder causing damage to the halting site and washing away temporary huts and shelters.
Here are truly uncomfortable conditions.
Thirty member of the Traveller Community living on the site. Mr Connors describes the efforts to stay safe and protect their homes during the heavy downpour. The only thing they could do was to save the wagons and keep the children safe.
Everything that we had that was an advantage to us was all washed away.
The Travellers tried to save their belongings working until late in the night waist deep in water. Many of their possessions including bedclothes, clothes, pots and pans were washed away.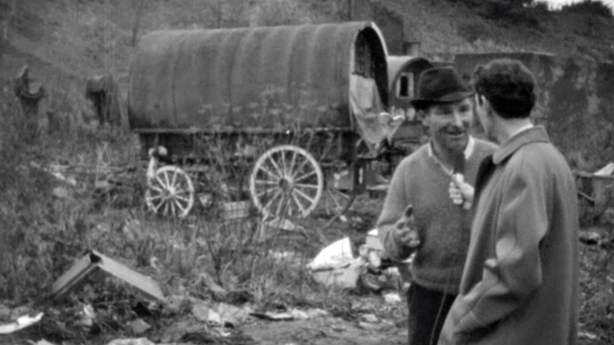 Mr Connors chats to Cathal O'Shannon
Their dogs were brought into the caravans to avoid being drowned. Everything was wet, even the firewood and so they could not get warm.
This episode of 'Newsbeat' was broadcast on 31 December 1965. The reporter is Cathal O'Shannon.