Horslips performing 'King of the Fairies' at the National Stadium in Dublin.
The Horslips concert was recorded at the National Stadium on 13 December 1975. Part one of the performance was broadcast on RTÉ Television on 30 December 1975 and part two on 21 June 1976.
Horslips members include Jim Lockhart on flute, Barry Devlin on bass guitar, Charles O'Connor on guitar, Eamon Carr on drums and Johnny Fean also on guitar.
The band performs 'King of the Fairies' an instrumental track which featured on their album 'Dancehall Sweethearts' (1974).
'On Stage at the Stadium: Horslips' was broadcast on 30 December 1975. The programme was produced and directed by Ian MacGarry.
These five young men, from various parts of Ireland, came together some years back to play what is termed Celtic Rock.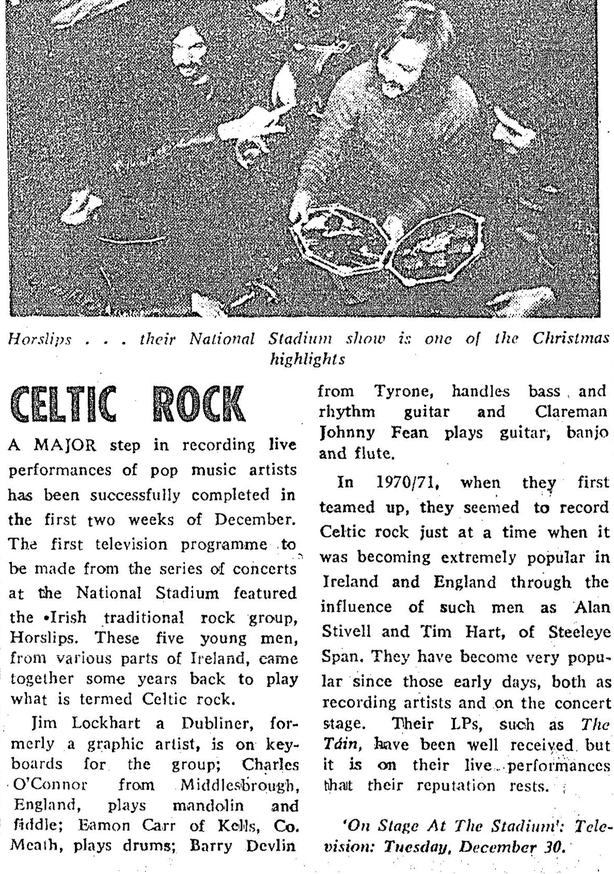 RTÉ Guide, 19 December 1975, Horslips at the Stadium