The fastest car in the world and the latest family saloon are among the many vehicles at The Motor Show.
The Motor Show takes place at the RDS in Dublin for the first time in four years. Bibi Baskin takes a look at some of the cars on display.
This is the Lamborghini Diablo. It is the fastest car in the world.
The Lamborghini Diablo, the fastest car in the world does naught to 60 is less than four seconds, can travel at up to 202 miles an hour and costs a quarter of a million pounds. Despite the price, the Lamborghini is in high demand with a six year waiting list.
The Porshe 959 is another fast car that does naught to 60 in less than four seconds and can travel at a speed of 180 miles an hour but comes at a cost of one million pounds.
For those on a smaller budget there are more reasonably priced models on show from manufacturers such as Ford, FIAT, Honda, Mazda, Renault, Volvo, and Citroen.
Noel Healy provides music on piano accordion with 'Mná na hÉireann'.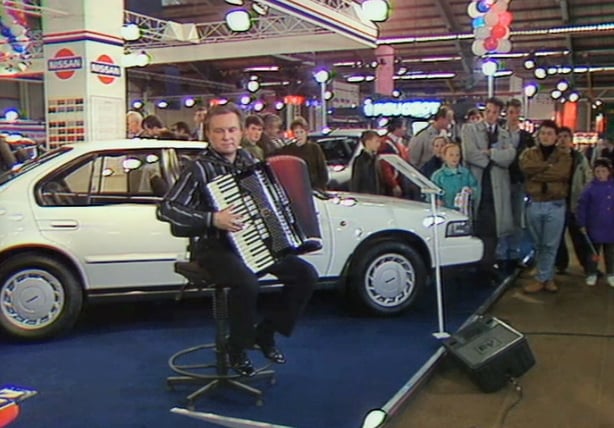 Noel Healy performing at The Motor Show
'Bibi' broadcast on 7 November 1990. The presenter is Bibi Baskin.
'Bibi' was a chat show presented by Bibi Baskin and produced by Justin Nelson. Each programme had a weekly theme, such as a person or an issue, exploring Irish life in both English and Irish. 'Bibi' was first broadcast on 13 October 1988. It ended on 17 March 1992 with a Saint Patrick's Day Special from Australia. Baskin went on to present several similar chat shows on RTÉ Television.