Mr John Kelly recalls his first time meeting Charles Stewart Parnell and the last time he saw him alive.
89-year-old John Kelly first encountered Charles Stewart Parnell while working the land at Avondale House in County Wicklow in 1879. Avondale House was the birthplace and family home of Charles Stewart Parnell, leader of the Irish Parliamentary Party and the Home Rule League.
Mr Kelly describes Parnell as,
A grand man all the time. One of the nicest men you could meet.
Mr Kelly goes on to talk about Parnell's time in Kilmainham Gaol, the work of the Land League and the evictions that took place in the area.
Mr Kelly also recalls the last time he saw Parnell at Kingstown (now Dún Laoghaire) shortly before Parnell's death in Brighton on 6 October 1891 at the age of 45.
He came back dead.
'Parnell and the Parnellites' was a programme of impressions recorded by some of those who knew or saw Charles Stewart Parnell. Presented by Norris Davidson.
Recorded on 27 September 1950.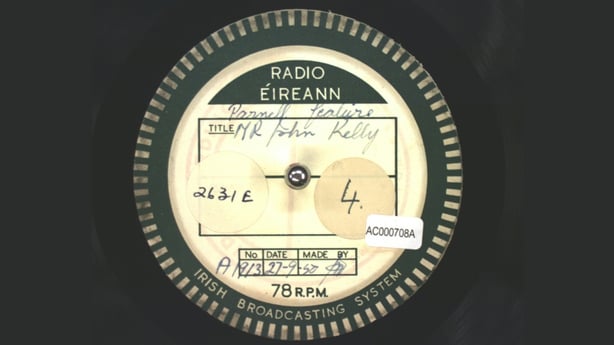 Acetate Disc Collection: 'Parnell and the Parnellites' John Kelly (1950)
From the RTÉ Archives Acetate Disc Collection which has been digitised with the support of the Broadcasting Authority of Ireland (BAI) Archiving Scheme.