Dublin's City Hall to reopen to the public after two and a half years of restoration.
Constructed in the seventeen hundreds, Dublin City Hall is now widely regarded as one of the finest examples of neo classical architecture in Europe.
In 1779, architect Thomas Cooley handed over the building to the city's merchants. Seventy years later it was requisitioned by the city authorities and by 1995 it had become a rather dull and gloomy administrative centre.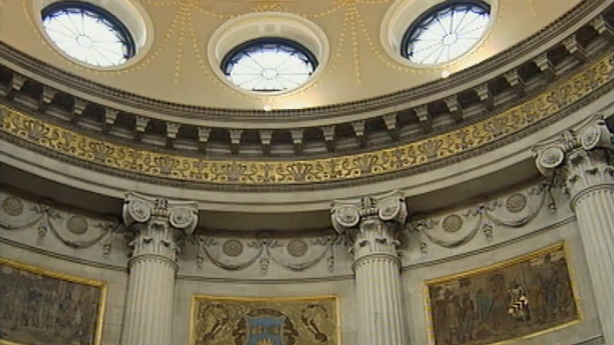 Dublin City Hall Restored (2000)
City Architect Jim Barrett was charged with bringing city hall back to life and restoring it to Cooley's original plan.
The grandeur and excitement of a space so well lit is architecturally quite stunning.
The two elegant staircases underwent extensive restoration to bring them back to their original form. As the restoration work was carried out, restorers discovered how the dome of the building was held up by the dome vaulting in the basement. A permanent exhibition of the city's history will be housed in the vaults.
Arriving in the Lord Mayor's Coach, Lord Mayor Noel Ahern declared the building officially open.
An RTÉ News reports on 6 September 2000. The reporter is Róisín Duffy.