Head of the giant Microsoft Computer Corporation and the richest man in the world, Bill Gates.
Billionaire Bill Gates is in the news at the moment as his company Microsoft launches its latest operating system Windows '95.
Known by many as the world's most foremost computer genius the 39 year old Bill Gates is a legend in his own lifetime.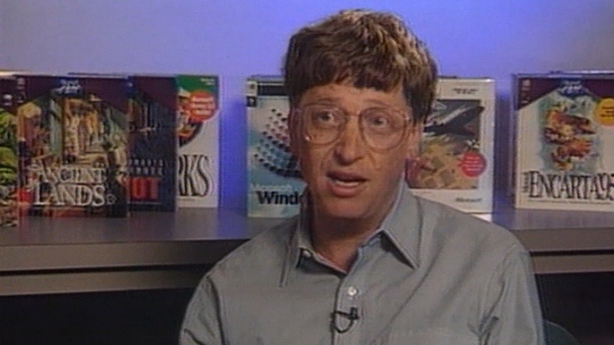 Bill Gates (1995)
1995 marks ten years of the company's presence in Ireland at its manufacturing plant in Sandyford, Dublin. To mark the anniversary, Mr Gates visited the Dublin plant and addressed an invited audience of around five thousand business leaders at a computer conference in the RDS where he promoted Microsoft's latest product.
Speaking to RTÉ News, Mr Gates said,
I think our operations here are really fantastic.
He went on to say that Microsoft has developed a great relationship with the Irish government as the Microsoft operations in the country have grown quite rapidly. He also emphasised Microsoft's commitment to their Irish operations as the chosen destination for their European activity.
An RTÉ News report broadcast on 6 September 1995. The reporter is Geraldine Harney.