Gloria Steinem editor and co-founder of the magazine 'Ms.' talks about feminism, patriarchy, the caste system, race and gender.
While most people accept that the idea of women's rights is readily acceptable, the devil is in the detail. As such, the campaign for women's rights worldwide uses every opportunity to bring its message to both women and men.
In recent years, we've all been asked to think seriously and regularly about the correct role of women in modern society.
'Ms.' magazine is just one publication attempting to bring women's rights to the forefront the publication is edited by Gloria Steinem.
Gloria Steinem, forty-five, single and I think she'll easily overcome any lingering resistance to the just cause of women's rights in America and in the world.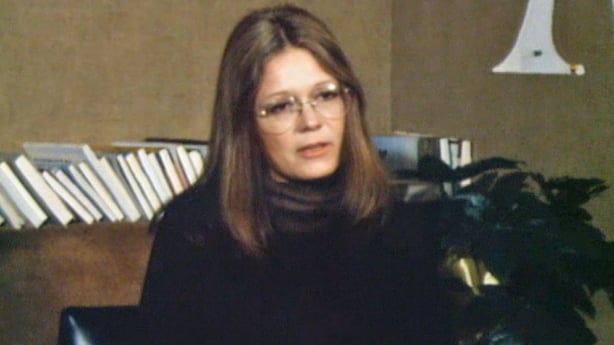 Journalist Gloria Steinem (1980)
Gloria Steinem describes how she became involved in feminism. She did not follow the conventional path for many women, in that she did not have children and was financially independent. She was conventional in the fact that she was imitating male journalists. She says that she was following the instruction that,
To be one the one woman in a group of men was the best thing.
The convention was to ignore the gender based politics of life and to accept the patriarchy.
Inspired by women activists in the black civil rights movement and peace movement, Gloria Steinem identified with what she refers to as "the caste system" based on gender and race.
I began to realise feelings of anger that I had been hiding and all the problems in my own life that I had been encouraged to take unseriously were really very serious and very political.
People are taught to think that politics is both superficial and natural, that women are an inferior group naturally. Gloria Steinem believes that these belief structures need to be challenged. This applies to men also who are constantly told that they need to prove their masculinity, to prove their gender. For Gloria Steinem difference arises over individuality rather than race or gender.
She believes that the first wave of feminism has given women a human identity. The challenge now is to get legal and social equality.
'Tell Me' broadcast on 15 August 1980. The presenter is John O'Donoghue.