Irish radio reports on the Japanese surrender and the end of World War II hostilities.
Following the Potsdam declaration nn 15 August 1945, the Japanese surrender was announced bringing World War II to an end.
The Japanese acceptance of the Potsdam terms was announced simultaneously in London, Washington, Moscow and Chung-king.
General McArthur was appointed as Allied Commander to receive the surrender and will meet Japanese representatives in Manila. Instructions have been issued that all allied offensive operations should cease.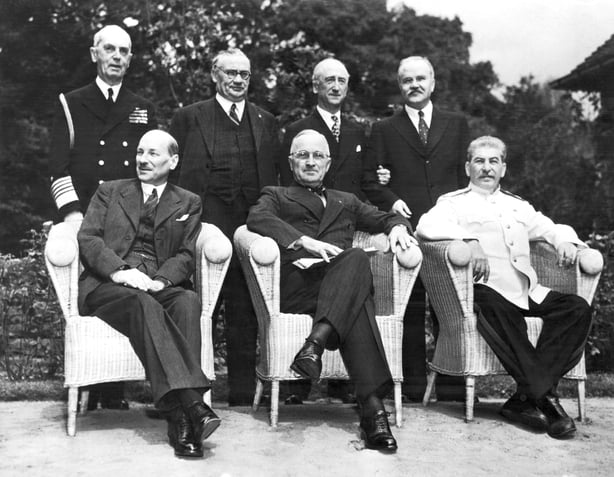 Potsdam Big Three Conference
The scene in the palace garden at Potsdam as the Big Three posed for photographers just before the final peace conference meeting, Potsdam, Germany, August 10, 1945. Seated left to right: Great Britain Prime Minister Clement Attlee, US President Harry S Truman, and Russian Marshal Josef Stalin; standing left to right are: Admiral William Leahy, Chief of Staff to President Truman, Honorable Ernest Bevin, Britain's Foreign Minister, US Secretary of State James Byrnes, and Russia's Foreign Minister Vyacheslav Molotov. (Photo by Underwood Archives/Getty Images)
The Japanese Emperor agreed to the terms of the Potsdam Agreement and would instruct all military to cease active resistance.
For the first time in the history of Japan, the emperor spoke the Japanese people over the radio.
In a radio broadcast to the Japanese people, the emperor announced that the Japanese would surrender saying,
The war situation has developed, not necessarily to Japan's advantage while the general trends of the world have all turned against our interests.
He explained how the allies had begun to employ a cruel bomb which was causing incalculable damage and loss of life. He believed that if it continued, it would lead to the total extinction of human civilisation.
British Prime Minister Clement Attlee and US President Harry Truman both broadcast the announcement about the end of hostilities. Clement Attlee said that today and tomorrow would be treated as, "victory holidays". He went on to express his gratitude to the allied partners.
Broadcasting to the American people, President Truman said,
This is a great day. This is the day we have been waiting for since Pearl Harbour. We are now faced with the greatest task in our life, the task of ensuring peace.
Radio Éireann News report broadcast on 15 August 1945. The announcer is Kathleen Dolan.
From the RTÉ Archives Acetate Disc Collection which has been digitised with the support of the Broadcasting Authority of Ireland (BAI) Archiving Scheme.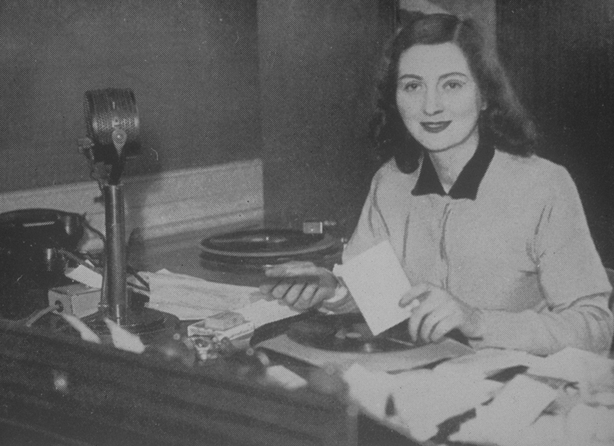 Kathleen Dolan on Radio Eireann's 'Hospitals' Requests' programme, 1948