Two million telephone directories a year could be saved from the rubbish tip if a Cork recycling project is successful.
Telephone books account for thousands of tonnes of waste paper but now recycling is possible.
Practically every home and business in the country has them and every year around this time they end up on the rubbish tip.
Up to now, the phone books could not be recycled as the gum used in the binding could not be treated in the recycling process. New techniques and processes now enable them to be recycled at three paper recycling units in the Cork area.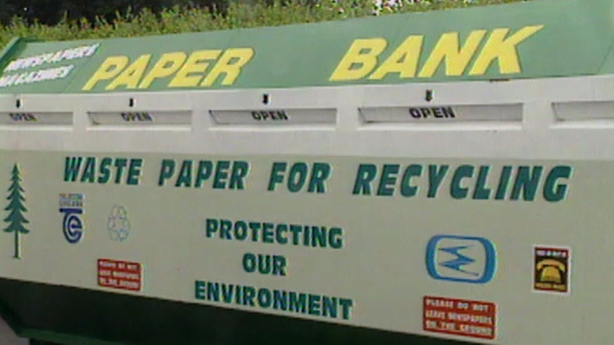 Paper Bank, Cork (1995)
The project came about as a result of public pressure to find ways to dispose of the books in an environmentally friendly manner.
Lord Mayor of Cork Joe O'Callaghan lent his support for the new initiative bringing directories to be recycled.
We're serious about our concern for the environment.
Fionnuala Byrne of Telecom Éireann says that members of the public are always looking for new ways to dispose of old telephone books as new ones are delivered.
This is a pilot project confined to Cork but there is potential to expand the project nationwide. Telecom Éireann distributes over two million directories nationwide each year amounting to 2.7 thousand tonnes of paper. However, technology may remove the need for printed directories as new CD-Rom discs can now store 136 million names, addresses and telephone numbers.
Charities will also benefit from the project as they will receive ten pounds for every tonne recycled.
An RTÉ News report broadcast on 18 July 1995. The reporter is Carole Coleman.