Radio reviewer critical of how the permanent collection of the National Gallery is being displayed.
A visit to the National Gallery of Ireland on Dublin's Merrion Square proves somewhat unsatisfactory with criticisms of bad lighting, mould, disrepair, and poor curatorship.
Art galleries always give me an uneasy feeling, the feeling of something out of place, something not fulfilling its purpose properly.
Reporting for 'Tuesday Review Arts Notes' the reviewer says paintings were never intended to hang in galleries but rather were intended to decorate churches and private houses. Now, they are part of collections and it is the job of curators to make galleries a living centre of cultural activity.
Paintings were never intended to hang in art galleries.
Comparing the gallery to a hall of mirrors, the reporter describes how the layout of the gallery made it difficult to see some of the paintings. He tried lying on the floor and standing on a stepladder to get a proper view of Rembrandt's 'La Main Chaude' and 'Shepherds at Night', and Bartolomé Esteban Murillo's 'Portrait of Josua van Belle'. Despite his efforts he claims he could see only his own reflection.
In the Venetian Room to his horror, he saw what looked like damp mould on the Caravaggio 'Supper at Emmaus'.
The reviewer is also critical of the arrangement and descriptions of the watercolours and drawings. Drawings on display included works by Andrea Mantegna, Andrea del Sarto, Lorenzo di Credi, George Petrie amongst others.
In the middle of a group of watercolours by Irish and British landscape artists are two pastels by Edgar Degas and a watercolour by James McNeill Whistler.
The reporter is not critical for the sake of it but hopes to bring these issues to the attention of the authorities of the National Gallery of Ireland.
Among his recommendations are redecorating the entire gallery. Remove half the pictures and hang the rest in good light with plenty of space. The display could be changed periodically to give the gallery an interesting variety which it currently lacks. The large Italian room at the top of the stairs could be used for lectures and concerts which could help to turn the National Gallery into a focal point of Irish life.
There might be an eager throng of Dublin citizens enjoying themselves.
Instead of art being something for the few, it might become an important part of the daily life of Dublin.
This episode of 'Tuesday Review Arts Notes' was recorded on 12 July 1950 to be broadcast on 19 July 1950.
'Tuesday Review' provided a weekly review of art, literature, music, theatre, film and fashion in Ireland. The programme was edited by Cecil Ffrench-Salkeld.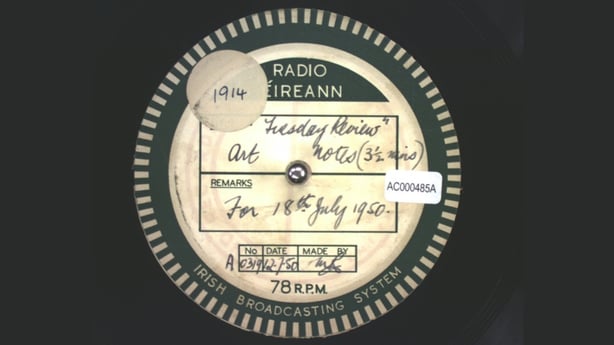 Acetate Disc Collection, Recorded 12 July and broadcast 18 July 1950 (QAC000485A)
From the RTÉ Archives Acetate Disc Collection which has been digitised with the support of the Broadcasting Authority of Ireland (BAI) Archiving Scheme.