An Irish woman recalls her time living in Nazi Germany.
Irish woman, Maisie Ward has published a book detailing her experience of life in Nazi Germany during World War II, her marriages, her struggle to survive and her journey back to Ireland. 'Always Look Forward' tells the story of a remarkable life.
At the age of seventeen in 1929, Maisie Ward met the first love her life, Wilhelm, a German engineer working on the Ardnacrusha electricity generating project. Ten months later, the couple married and moved to Germany to start a new life. For Maisie, this meant becoming part of an aristocratic German family.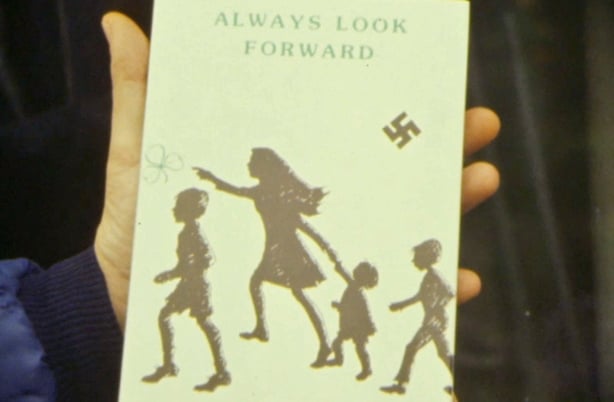 Always Looking Forward by Maisie Ward
Maisie describes life in Germany in the 1930s as wonderful and even commends the work of Adolf Hitler during the early years of his reign in building infrastructure for the country. The war began and Wilhelm was called to the front. At this stage, Maisie had two children and life became more difficult.
From an aristocratic table, Maisie was now queuing for ration coupons and food.
As the war progressed Maisie lost contact with Wilhelm until she received the news that he had been killed on the Russian front. Maisie's troubles continued. The death of her husband meant that Maisie was no longer considered German. A plan was made for Maisie to marry her brother in law Kurt who was fighting on the front. They married by proxy and Maisie got her papers back. Kurt got leave of absence and returned for eight days. When Kurt returned to the front, he was killed. Nine months later, Maisie gave birth to her son.
Soon after Kurt's death, Maisie was called to the town hall under the pretence that she was to be asked questions about Ireland. However, the reality was that she was about to be thrown into a concentration camp. She was charged with listening to the BBC. She now spent all day every day scrubbing floors. Demanding a hearing on the basis that she was Irish and Ireland was not an enemy of Germany. Maisie made her defence and was released.

Maisie moved to a town across the water from Sweden. It wasn't long before the Russians were on their way and Maisie once again went into hiding.
When the Russians came to town, Maisie and other young women went into hiding.
While hiding out in an attic, a young girl left a tooth scar on Maisie's hand as she tried to suppress her screams. At this stage, Maisie had had enough. She dressed up to make herself look old and hid a revolver under her coat. She went downstairs and waited for the next Russian visitor to arrive. When the Russians arrived and threatened her with rape, she quickly ran them off. However, that was not the end of it. Shortly after, she got a visit from a local town commandant and a general and was punched in the face. Threatened again with imprisonment, a general stepped in to defend her. Yet, another man had fallen for Maisie. Maisie packed up again and moved to Berlin with the hope of returning to Ireland.
Having failed to get help from the British or American Embassies, Maisie eventually found help at the French Embassy. They sent her to Paris. When she was thrown out a refugee camp in Paris, French officers got her on a boat back to Ireland and on to Limerick.
An RTÉ News report broadcast on 27 June 1985. The reporter is Andrew Kelly.
This report contains third party film and images that are not RTÉ copyright.