The Kerry town of Listowel continues to provide a platform for writers to meet and learn more about their craft.
Listowel Writers' Week has been taking place for the past fifteen years. Chairman Gabriel Fitzmaurice talks about the origins of the festival. Charles Haughey once described Listowel as the Athens of Ireland, where there is a love of culture and an appreciation of things of the spirit.
One of the most exciting things to happen each year at Listowel Writers' Week is the coming together of Irish language and English language writers.
The writers' week is a particular blend of the culture of Irish writing and the tradition of writing in English.
For Irish writer and poet Michael Hartnett the week is,
A mixture of culture and crack.
Launching a collection of poetry he describes it at as probably the first book ever written in the Irish language on the subject of mental breakdown.
Writers' Week also provides a platform and opportunity for writers to find a publisher. Lynda Moran, who launched her book 'The Truth About Lucy' on the back of encouragement and connections made at the festival.
Here in Listowel, I wasn't treated as an oddity which was very refreshing.
Workshops are carried out during the day and socialising takes place in the evenings throughout the festival.
Writer John B Keane was launching his new book 'Owl Sandwiches'. He describes the festival as a great occasion for talking, singing, drinking and it is the place to be for any aspiring writer looking to meet a publisher.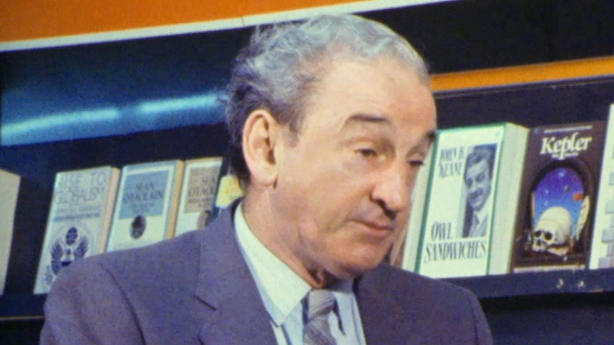 John B Keane at Listowel Writers' Week (1985)
An RTÉ News report broadcast on 31 May 1985. The reporter is Tom MacSweeney.