Retirement village chef wins awards for carving sculptures from butter and margarine.
The retirement scheme at Clonmannon Village comprises the 17th century mansion known as Clonmannon House and a number of bungalow units. A one bed bungalow costs £28,300 and a two bed unit costs over £34,000.
For an additional £7500 a year, every couple who retires to Clonmannon has all their medical needs taken care of and the luxury of a daily four course dinner prepared by award winning chef Derek Spendlove.
In April 1985 Derek Spenglove became the first chef in 40 years to return from an international competition in Torquay in England with two gold medals. He won the medals for fat carving by creating sculptures from butter or margarine. The international competition has a very high standard and there were 28 entries in the fat carving class.
Derek Spendlove is particularly proud of an intricate fat carving depicting the Last Supper. He spent an average of six or seven hours a day on this sculpture and coming closer to the competition date, this increased to 10 hours a day.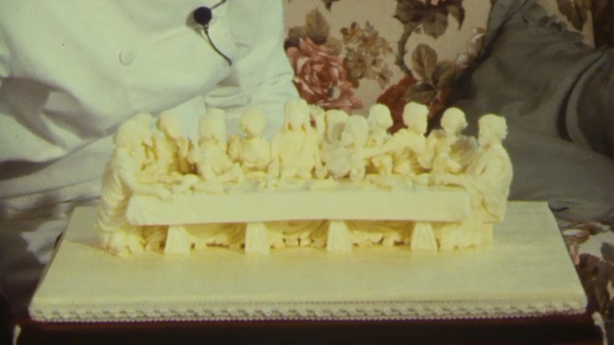 The flair Derek Spendlove displays in his fat carving is reflected in all aspects of his cookery, He encourages all staff in his kitchen to use their hands and to be creative.
Fat carving gives him a great sense of satisfaction.
In seeing something coming together and seeing that what I can perform can make people so happy.
An RTÉ News report broadcast on 24 May 1985. The reporter is Maggie O'Kane.